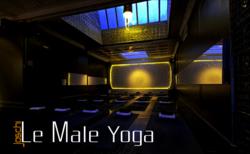 Le Male Yoga will teach you to concentrate and re-focus. This is absolutely vital to succeed in today's fast environment!
New York City, NY (PRWEB) January 22, 2013
Le Male Yoga in New York City adds Yoga classes to their schedule to help men improve their sex life and make it more interesting by incorporating specific Yoga Poses as well as Pranayama, Bandha and Chakra work. A recent article in elitedaily.com illustrates after some in depth research that the driving force behind almost 90% of men's activities is sex. Even though money, status, success and power are important factors in what motivates men, the article's findings say those are purely contributing factors in the bigger goal towards sex.
According to an article by Michael Castleman, M.A., Yoga improves libido and helps prevent and treat sexual problems and a German study from Cologne University Medical Center has found that physical exercise can be as effective as Viagra in dealing with erectile dysfunction.
Yoga promotes deep relaxation, which concentrates blood in the central body where it is available in the genitals and therefore becomes sexual arousal. At the same time, reduced stress elevates mood, which is fundamental to lovemaking.
Beyond deep relaxation, sex requires a robust blood flow, which any exercise regimen, but especially yoga provides. Yoga improves orgasm as well. Orgasm involves the contractions of the pelvic floor muscles and Le Male Yoga's Power Flow and Naked Tantric Flow Classes incorporate Bandha work - especially work on the Mula Bandha (Root Lock, first of three locks) - to strengthen these muscles and intensify orgasm. For men, engaging the Mula Bandha is the contraction that happens in the area between the anus and the genitals, lifting the perineum (pelvic floor muscle) up towards the abdomen. This kind of action can lead to have more control, being able to influence an erection and maintain it without premature ejaculation.
Additionally Le Male Yoga's Tantric Flow Yoga teaches men to concentrate, re-focus and tap into their sexual core energy.
About Joschi Le Male Yoga:
Le Male Yoga is for fit men who aim to initiate a lifestyle that liberates, expands and energizes. Le Male Yoga offers Tantra and Vinyasa Yoga to give fit, in-shape and athletic men a unique opportunity to recharge their body, update their mindset and celebrate life.
Le Male Yoga provides a welcoming and real community for all men - gay, straight or bisexual - who enjoy fitness, communal bonding, socializing & having fun in a safe and judgment-free atmosphere.
Explore Power Flow Yoga for a high-heat, high-energy workout, Tantric Yoga to tap into your sexual core energy and Yogassage to enhance the body's erotic potential. Whether students are beginners, advanced practitioners or somewhere in between, LMY offers something for every man. Le Male Yoga offers one-of-a kind classes, workshops, retreats and teacher training programs in New York City and around the world.