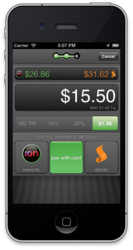 Atlanta, GA (PRWEB) January 17, 2013
Sionic Mobile today announced a major update to its ION mCommerce service. The new release of ION Rewards℠ for consumers and ION Loyalty® for merchants represents a market first: instant reward of at least 1% at checkout to consumers paying with their smartphones. Paying with ION Rewards is free, fun and fast.
Consumers download the free ION Rewards app, link a credit or debit card, pay with their phone at any ION merchant and get paid 1% of the checkout amount in IONs instantly. The ION reward is on top of any reward provided by the card provider. Users also earn IONs for buying merchant-advertised items, connecting with friends and signing up their favorite places. 1,000 IONs equals $1.00 and may be spent like cash at any ION merchant for anything.
Paying at checkout with ION is easy and faster than using an ATM. Consumers simply enter a payment amount and ION presents a bar code on the phone. Merchants without barcode scanners use their phones or tablets and present a simple confirmation message on customers phones. ION checkouts are secure and take less time than swiping a card.
"After comprehensive testing for security and fraud prevention with our card payment partners, we are pleased to release this next, major version of ION," said Bob Burroughs, VP Product Marketing, Sionic Mobile. "ION users can be confident their credit card information is safe and secure with our PCI-compliant card processor partners."
The update is well timed as the Company prepares to enable more than 20,000 food & beverage, retail and service provider locations nationwide U.S. with ION.
###
About ION
ION is a fully digital mCommerce platform connecting merchants with nearby consumers via mobile ads, payments and rewards. ION Rewards℠ pays consumers to pay with their phones and rewards them for buying merchant-advertised items, connecting with friends and referring their favorite places. ION Loyalty® increases high-margin sales for food & beverage, retail and service providers. The apps connect securely in the cloud for immediate and effortless checkouts. Both apps are free and support iOS and most Android devices.