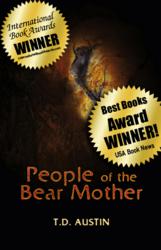 PALM SPRINGS, Calif. (PRWEB) January 21, 2013
It is 1995. An archaeologist excavates a cave in the south of France. With his light, he sees magnificent animal art on the cave walls. Where did they come from?
Thirty-five thousand years ago, a young woman under the name Little Bear is summoned by the most powerful shaman of her tribe to paint a magical cavern that her people call the "Great Cave". The cave acts as a birthplace of powerful mystical experiences, and is the source for the tribe's most profound revelations.
A tale of past lives with authentic historical, archeological, and anthropological backdrops, 'People of the Bear Mother', by T.D. Austin, is brimming with academic, spiritual and emotional inferences as the human condition is explored.
This first installment of a series, 'People of the Bear Mother' has already garnered awards as a finalist in the 2011 International Book Awards for Gay-Lesbian Fiction and Chick-Lit/Women's Fiction, as well as a 2011 USA Best Book Award for New Age Fiction.
The "temple caves" of our ancient past are only the starting point for universal spiritual truths, and for the soul of Little Bear, the beginning of an eternal journey that transcends time or place.
"We are all connected at deeper levels and are one in spite of the appearance of separation and difference," Austin says.
For more information, please visit http://www.tdaustinps.com
People of the Bear Mother
By: T.D. Austin
ISBN: 978-1-4525-5735-9 Paperback: $33.99
Available at http://www.amazon.com
About the author
Following a career in academia, Austin's recent spiritual awakening has sparked and inspired a creative outpouring in the form of a series of channeled novels, of which People of the Bear Mother is the first. Born and raised in Utah, Austin now lives and writes in Southern California.
## #