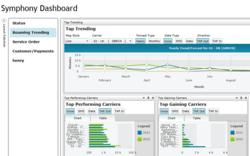 The flexibility of the Symphony Billing software will help PTK create additional sources of revenue.
Rochester, NY (PRWEB) January 23, 2013
Xelex Technologies (http://xelex.net), a telecom software and mobile technologies company based in Rochester, NY is proud to announce that Kosovo's PTK has selected Xelex's SYMPHONY™ BSS to upgrade their current billing system to a comprehensive end to end billing and customer care solution.
Symphony is a carrier-grade, stand-alone, turnkey platform that enables service providers or resellers to launch new Business Support Systems (BSS) applications and service offerings within their existing OSS.
PTK's billing upgrade project includes the implementation of (Symphony) Xelex's convergent billing and charging, interconnect billing, invoicing, order and customer management, mediation and rating.
"This is another big deployment for Xelex, and one we believe will provide huge benefits to PTK," said Robert Fordon, Xelex's Vice President. The flexibility of the Symphony Billing software will help PTK create additional sources of revenue. This means that new packages and services can now be created by less effort and much greater speed than ever before.
"We are looking forward to implement the "Symphony Solution" in response to PTK's complex business needs, and provide the best in class professional support and services, when and where the customer needs it," commented Anna B. Zheleznyak, Xelex's Director of Professional Services.
Other immediate benefits that Symphony brings to PTK include: providing customers with a single bill summarizing all the services they use from their subscription packages, offering subscribers a single point of contact for all their queries, ensuring accounting accuracy of PTK's roaming and interconnect revenues.
About PTK
PTK Shitja (PTK Sales) is a subsidiary of Post and Telecommunications of Kosovo (PTK), engaged in marketing, distribution and sale of the products and services by the parent company. PTK Shitja is a retailer of all products and services, launched by the mobile operator VALA, the fixed telephony operator Telecom of Kosovo, and by Post of Kosovo.
PTK Sales conducts its activity throughout more than 100 sales points in 7 locations – Prishtina, Prizren, Peje, Gjakove, Mitrovica, Gjilan and Ferizaj.
About Xelex Technologies
Xelex provides billing, customer care and workflow solutions that have greater flexibility and provide greater independence for communications and content service providers, resulting in a lower total cost of ownership. Xelex offers a complete package of solutions and can service both growing and major established providers.
Xelex deploys its full range of end- to- end and add- on telecom billing services to customers and implements solutions in wireless, wireline, cable , M2M, cloud and content markets. Further information is available at http://www.xelex.net.
For More Information:
Robert Fordon, Vice President
585-820-8587 | RWFordon(at)xelex(dot)net