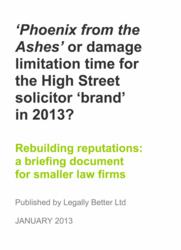 For smaller law firms is it every man for themselves as the new competition and new regulations come into effect?
Shropshire (PRWEB UK) 21 January 2013
The briefing, from law firm client feedback experts and solicitor comparison site Legally Better, provides insights from an experienced personal injury lawyer and a marketing expert specialising in advising smaller law firms. This includes advice on business development strategies to be considered as a result of the regulatory changes affecting the personal injury sector that are set to benefit the insurance industry but not necessarily the consumer when it comes to access to justice.
Of interest to Practice Managers, COLPs/COFAs, Partners and management teams at smaller law firms the subject is looked at in the context of other 'pillars of society'. Over the last 12 months a number of professions and institutions - including the BBC, the Church, several Police forces and MPs - did little to enhance their own respective collective reputations.
Commenting on the briefing document, Jon Hepburn, Managing Director of Legally Better Ltd said, "For smaller law firms is it every man for themselves as the new competition and new regulations come into effect? The time for collective action to significantly influence the proposed regulations regarding accident claim litigation has now probably passed and many law firms' future could be out of their hands."
Jon went on to say "As an independent solicitor comparison site and law firm client feedback service Legally Better has taken a neutral approach to the issues behind and history surrounding how law firms have arrived at the current situation. We have identified specific opportunities and practical ideas that smaller law firms can adopt. The document draws comparisons with other industry sectors and provides useful insights to identify the reasons why this happens, who is responsible and why we should care."
Highlights of the briefing document include:

Reputation issues that are currently affecting many institutions, organisations and individuals - including solicitors.
The nature/perceived outcomes of an occupation affects a consumer's perceptions of value.
A short history of the changes to the personal injury market – to put the current situation in context.
Shifting consumer attitudes, the power of the internet/social media.
The public's lack of awareness of forthcoming changes in access to justice for PI claims. Will they be prepared to pay for legal advice for their accident claim?
Recognition that something needed to change to address the 'compensation culture' but the proposed changes are perceived as unrealistic by accident claim solicitors.
The necessity of cherry picking of the 'best' cases by insurers and solicitors alike will reduce access to justice for some sections of soclety.
A potential increase in professional negligence claims against solicitors.
Observations as to how High Street personal injury law firms can try and compete with the new competition and practical advice on what smaller law firms can do and there are a number of questions/discussion points at the end.
For a copy of the document please email jon.hepburn(at)legallybetter(dot)co.uk
Notes for Editors:
About Legally Better - the client feedback service for law firms and solicitor comparison site.
To address these new client care and compliance issues, and help law firms market and grow their business in the rapidly changing legal market, Legallybetter has re-launched and expanded its service to law firms. The new service is actually six services in one including:
1. Robust client feedback surveys
2. Client recommendations for new business
3. Wider web presence
4. Social media channels
5. Fortnightly e-updates on compliance, client care etc.
6. Legallybetter Exchange under development but coming soon –
More on the new Legallybetter service, and what Legallybetter law firms are saying about it,
For further information, and editorial copy, please contact Jon Hepburn, Managing Director, Legallybetter Ltd on 01743 366288 or jon.hepburn@legallybetter.co.uk
Legallybetter Ltd, Citadel House, Solvay Road, Northwich, Cheshire CW8 4DP
Registered No: 6624488