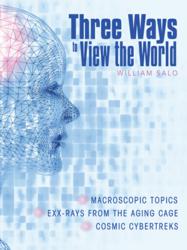 Toronto, Ontario (PRWEB) January 19, 2013
What does a journey into the cosmic void look like?
A map of visions for the human condition, shaped by inspiring contributions from former thought-pioneers, 'Three Ways to View the World', by William Salo is a ground-breaking release that will challenge accepted dogmas and personal thought-boundaries.
'Three Ways to View the World' heralds that the world has changed radically, whether it be geological, technological, etc., and people must adjust their philosophical understanding of existence to accommodate to that. On a daily level, perceptions have to be modified to fit our changed environment. The book changes these perceptions by giving a though-provoking set of deeply logical topics on three levels of human experience: macroscopic topics, exx-rays from the aging cage, and cosmic cybertreks.
This nonfiction work of deep reflection deviates from the denigration of true literature that is occurring in our world today. There is an effort by the media to cater to the worst inclinations of people, and not only does 'Three Ways to View the World' defy that in its aspirations of probing, but it also makes a lesson of it in its pages.
By urging readers past well-traversed canyons of philosophy to find new terrain, 'Three Ways to View the World' is interactive in its learning curve, as readers have room at the end of each topical chapter to jot down their responses. The books is formatted in a way to cultivate long- standing comprehension.
Three Ways to View the World
By: William Salo
ISBN: 978-1-4525-5730-4 Hardcover: $17.99
Available at http://www.amazon.com
About the author
William Salo, a "super senior", has lived through one of the most transitory times in the modern world, and he credits this with allowing him to pen Three Ways to View the World. He was a pilot with the Royal Canadian Air Force during WWII before his career as owner of a consultancy firm. He also worked in marketing for Colgate Palmolive and Best Foods corporations for ten years and operated a technical important company for seven years. He now leads an active retirement. He lives with his wife Lois, and has three children and two grandsons.
###