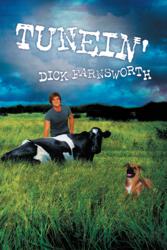 Syracure, N.Y. (PRWEB) January 19, 2013
What if, much like a piano, people and animals could be tuned back into working order?
Young Rod Harris finds that he has the power to do such a thing, and sets about fixing the world around him in Dick Farnsworth's new novel 'Tunein'.' For years, Rod has been, on the outside, a gentle farm boy from a broken Iowa family, but who, on the inside, harbors a secret of what his touch can bring.
This extraordinary gift of healing has been handed down from past generations to Rod. The typical road to becoming a man is shaped by his burdensome role in the struggle of good versus evil. His incredible gift not only reaffirms, but shapes, his faith, as it echoes the transformative nature of Rod's god.
"I am a firm believer in the availability of spiritual gifts to those who seek them worthily," the author says of his hero's abilities.
'Tunein'' follows Rod throughout his life, as people are continuously drawn to him for his embodiment of integrity and faithfulness. Parallel to the development of his powers are his strong ties to family and friends, which equally shape him into a great man.
The story of an extraordinary life, 'Tunein'' artfully illustrates the joy that comes with healing, and the strength that it requires.
Tunein'
By: Dick Farnsworth
ISBN: 978-1-4525-5902-5
$30.99 (hardback)
Available at http://www.amazon.com
About the author
A retired small business owner, Dick Farnsworth has debuted onto the authorship scene with his first novel, Tunein'. With his wife Jan, to whom he has been married to for 53 years, he enjoys traveling and spending time with friends. He also loves to garden and participates in Church and community activities. He and Jan have one son and four grandchildren. He resides in New York and his second novel is anticipated for release in 2013.
## #