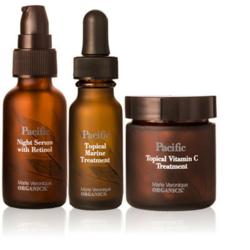 "Acid peel, dermabrasion and laser resurfacing are the only treatments that can even compare with the tightening and smoothing action of Pacific Topical Marine Treatment."
Mill Valley, CA (PRWEB) January 17, 2013
Award-winning, natural skincare company Marie Veronique Organics has launched a new line of advanced anti-aging treatment products made with the most potent ingredients from the Pacific Ocean and throughout the Pacific Rim. Specifically formulated to address the root causes of aging skin, the new products target wrinkles, sagging skin, dehydration, hyper pigmentation and other conditions common to aging skin.
"We gave Marie the challenge of creating the very best anti-aging products available, without harmful ingredients. Based on the results we're seeing, she has exceeded all expectations," explains Hillary Peterson, CEO.
Some of the ingredients that make Pacific stand out in a market filled with quick fixes and ever-changing trends include:
Astaxanthin: Derived from Hawaiian red pond algae, astaxanthin is the most powerful antioxidant on record. Its anti-aging benefits are nothing less than stunning. Topical applications reduce wrinkle-formation, and in human trials, it has been shown to reduce the visible signs of UV-aging.
Lacto-Ceramides: Identical to the natural ceramides in human skin, lacto-ceramides effectively penetrate and enhance your own synthesis of ceramides. This enhances barrier function, keeping the moisture in and the toxins out.
And remarkably, Pacific introduces two ingredients not available in any other product on the market:
Pacific Marine Bioactive Peptides™: These bioactive peptides from algaes and seaweeds are uniquely moisturizing and provide the vitamins and minerals your skin needs to function at its best.
CMBI Natural Marine Extract™: This is the essential ingredient in Pacific Topical Marine Treatment, developed with Dr. Eric Lewis, a prominent Beverly Hills dermatologist.
This active component found in the sea rejuvenates by stimulating the fibrocytes in your skin to produce more fibrocytes. What's more, it stimulates all of the fibrocytes (new and existing) to produce more collagen, elastin and hyaluronic acid—well known to be the secrets to youthful skin. Equally important, this potent extract actually stimulates blood vessel formation, which elevates the overall health of the skin.
"No 'rejuvenating' product on the market today remotely achieves Pacific Topical Marine Treatment results. Acid peel, dermabrasion and laser resurfacing are the only treatments that can even compare with the tightening and smoothing action of TMT. The costs of these surgical procedures is between $2500-5000 per treatment. They -- and especially laser -- harbor the danger of discoloring and scarring the skin." explains Dr. Eric Lewis, founder of CMBI,"A long-term concern is that they accelerate age-related thinning of the skin. TMT rejuvenates the skin by creating new blood vessels and fibrocytes, which produce significant amounts of collagen, elastin, and hyaluronic acid without the potential complications of surgery."
Like all Marie Veronique Organics' products Pacific does not contain any harmful chemicals or synthetic fragrances.
Everyone is invited to the company's new Mill Valley retail store to receive a complimentary skin consultation with founder Marie Veronique Nadeau, and to sample Pacific and MVO Everyday Essentials
For more information about Pacific, please visit the MVO website http://mvorganics.com/pacific.
Or visit the retail location at: 29 Miller Ave, Mill Valley, CA 94941.
ABOUT MARIE VERONIQUE ORGANICS: As a former chemistry teacher, Marie developed Marie Veronique Organics with her daughter, physicist Dr. Jay Nadeau. Marie's goal was to create a skincare line that would allow her to age gracefully and naturally. "We are honored to provide you with the smartest anti-aging products on the market. We have a deep scientific understanding of the aging process and we look to nature to provide ingredients that will nourish the skin to aid in slowing down the aging process", says Marie. Marie Veronique Organics operates responsibly and sustainably, sourcing fair trade, organic, and/or locally grown whenever possible, and using biodegradable products, labels, and easily recyclable packaging. Ten percent of company profits are donated annually. Marie Veronique Organics' award-winning facials are available in select spas, including:
-Solage – voted #1 spa in the Americas and Caribbean by Conde Nast Traveler readers.
-The Inn at Palmetto Bluff – recognized by Travel + Leisure as the #1 spa in the U.S.
-Esperanza – recognized by Travel + Leisure as the #1 spa in Mexico.