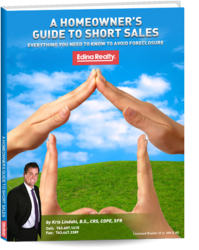 the public deserves to know this kind of helpful information.
Robbinsdale, MN (PRWEB) January 17, 2013
A short sale seminar was held in Robbinsdale, MN on Tuesday morning. The seminar was led by Kris Lindhal of Edina Realty. Lindahl is Edina Realty's number one short sale agent. At the seminar Lindahl presented the short selling process in highlighted steps using examples from his experience. Lindahl used a major bank's guidelines and requirements to simplify the process.
Lindahl has created several online resources for the public's use including three short sale calculator websites, a downloadable eBook, and a video series on YouTube. Each of these resources were explained at the seminar as well.
The seminar was part of a larger campaign led by Kris Lindahl and his team to relay information to the public that was previously known only to real estate professionals. "It's the least I can do,"said Lindahl at the seminar, and continued,"the public deserves to know this kind of helpful information."
Call Kris and his team at (763) 607-1415 for more information. Visit the Minnesota Short Sale Calculator website to check eligibility. Download a complimentary copy of the eBook titled "A Homeowner's Guide To Short Sales" and check out the video series on YouTube.