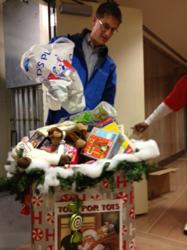 My patients really rose to the occasion, bringing in absolutely amazing gifts for children from ages 2-15
Washington, DC (PRWEB) January 17, 2013
Dr. John Dandelski, a Washington, DC area chiropractor, held a successful two-day Toys For Tots toy drive in December. For any patient who brought in a new toy, Dr. John provided chiropractic care for just $25. In just two days Dr. John collected over 50 new toys for children in need in Washington, DC. This turned into a holiday bonus both for Dr. John's patients and some local children. "My patients really rose to the occasion, bringing in absolutely amazing gifts for children from ages 2-15", said Dr. John. "I have some of the best, most giving patients a doctor could ask for."
About Sport and Wellness Chiropractic:
Sport and Wellness Chiropractic has two locations. The first is housed within Positively Chiropractic in Annandale VA ((5105 Backlick Rd., Annandale, VA 22003, 703-842-8685). Dr. John also has a second location in Washington, DC (888 16th St., NW, Suite 800, Washington, DC 20006, 202-505-1870). Dr. John is also licensed to practice in Colorado.
While Sport and Wellness Chiropractic caters to the athlete (especially swimmers, cyclists, runners, and rowers) patients of all ages and activity levels seek out Dr. John for his experience in dealing with troublesome injuries, aches, and pains. Dr. John is also a Certified Chiropractic Extremity Practitioner (CCEP) and Active Release Technique® (ART) provider.
Contact:
Dr. John Dandelski, D.C., Chiropractor/Owner
For more information, please go to the Sport and Wellness Chiropractic website at http://www.sportandwellnesschiropractic.com.