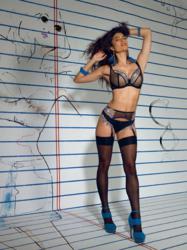 Figures revealed that the average transaction value was up by 31% year-on-year
Desborough, Northamptonshire (PRWEB) January 21, 2013
Year-on-year, Leia Lingerie saw a 26% increase in sales during December 2012 compared to December 2011. The website leialingerie.com allows women to buy lingerie online and buy swimwear online. Visitors can choose from a wide range of products and collections, designed by a number of popular brands including Freya, Fantasie, Fauve, Elomi and Huit from an A to K cup.
Consumers were also spending more overall. Figures revealed that the average transaction value was up by 31% year-on-year. When it came to specific products and ranges, lingerie collections which offer a sheer style delivered the most successful sales - with underwire plunge balcony styles such as Lyla, Untamed and Arabella bras from Freya proving particularly popular. Sheer bra styles are often selected by customers due to the lighter look and feel they provide, offering comfort and coverage as well as support for the wearer.
Despite positive results during this period, Leia has also revealed that male visitors purchasing gifts for their partners for Christmas are still getting it wrong. With the average returns rate for men being 34% - it appears a high number of male visitors who bought gifts are returning them due to their lingerie choices being unsuitable or the incorrect size.
Nigel Addison from Leia lingerie said, "We're pleased to see that online sales were up on last year and it's really encouraging to see that visitors are also spending more. Despite the average returns rate for men being 34% and this suggesting the gifts they purchased were wrong, it is clear the thought was still there and they are trying. We even saw gift wrapping go up by 78% on last year."
Leia offers a host of lingerie and lingerie fitting advice and tips on the My Leia section of its website http://www.leialingerie.com/help-and-advice/getting-fitted.aspx
About Leia
Leia has over ninety years of lingerie design experience and allows women to buy lingerie online and buy swimwear online – all whilst offering an affordable boutique experience. Sizes range from an A to a K cup. Leia principally retail through an online store, but they also have boutiques in York and Cardiff, as well as Kent's Bluewater shopping centre. To find out more about Leia, visit http://www.leialingerie.com