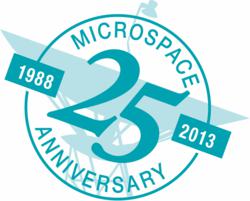 While we are taking a moment to celebrate this milestone, we already have our eyes set on the next 25 years
Raleigh NC (PRWEB) January 22, 2013
Microspace Communications, one of the industry's leading providers of content delivery solutions for business applications, is pleased to announce that 2013 marks their 25th Anniversary.
According to Greg Hurt, Vice President of Sales and Marketing at Microspace, "It certainly doesn't seem as if we have been at it for a quarter of a century. What a wonderful testament to our loyal clients and dedicated staff".
The Microspace satellite network is one of the industry's largest. It currently delivers content to over a quarter of a million businesses in fourteen time zones. Organizations from dozens of markets utilize the company's services and while their content is diverse, they all share a need for a cost-effective, highly-reliable means of delivering their media to multiple locations.
Over the past several years, Microspace has also added terrestrial, internet and wireless options to its list of available services. These communication options are typically used in conjunction with Microspace's core satellite broadcasting services as hybrid network configurations. These configurations are being used quite often to bring great benefits to our customer's network.
Joe Amor, Vice President and General Manager at Microspace, had the following to say; "When you stop and think about all the technology changes in the past quarter of a century, it is very gratifying to have grown within this dynamic climate. Microspace's services have become an essential portion of our society's communication fiber, as exemplified by our customers' renewal rate exceeding 92% throughout the past decade." Amor added; "While we are taking a moment to celebrate this milestone, we already have our eyes set on the next 25 years."
Microspace is a Capitol Broadcasting Company. Capitol Broadcasting Company, Inc. is a diversified communications company which owns and/or operates WRAL-TV, WRAL Digital, WRAZ-TV, WRAZ Digital, WRAL-FM, WRAL-HD2, WCMC-FM, WCMC-HD1, WDNC-AM, WCMC-HD2, WCMC-HD3, WCLY-AM, WCMC-HD4, Microspace, CBC New Media Group and Wolfpack Sports Properties (a joint venture with Learfield Sports) in Raleigh, NC; WJZY-TV and WMYT-TV in Charlotte, NC; WILM-TV and Sunrise Broadcasting in Wilmington, NC; The Durham Bulls Baseball Club in Durham, NC; and real estate interests including the American Tobacco Project and Diamond View office buildings in Durham, NC.