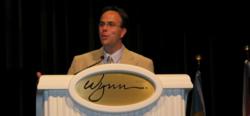 St. Paul, MN (PRWEB) January 17, 2013
John Nemo, Founder and CEO of Nemo Media Group, a debt collection marketing agency based out of St. Paul, Minnesota, recently spoke at the Wisconsin Collectors Association Annual Fall Conference. In a presentation titled "Reporting on the Reporter" Nemo spoke about the value for debt collection agencies to own public relation stories before the stories own them.
"If you don't participate, if you don't make any effort to change the perception and to do your own PR, then you can't complain," Nemo said. "It's not like you're going to have to make something up or put a big campaign together, you just have to tell your story. And in the era we live in, it has never been easier to do that."
The presentation emphasized the importance of technology and the advantage today's collection agencies have from the ability to use mediums like social media networks to give their side of a story.
"Things like video and social media outlets are game changers," Nemo said. "They're not expensive to do, or hard to integrate into your website, yet I don't see many agencies at all doing this."
Attended by many of Wisconsin's leading debt collection professionals, Nemo's presentation was widely regarded as one of the conferences most informational and entertaining sessions.
"John's style was great," said conference attendee Peter Hemmer, an attorney in the industry. "The presentations were entertaining, which is always good in a seminar situation, but they were entertaining plus fact-filled. So you got both of those worlds."
Nemo plans on speaking at several regional and national industry events in 2013, including the Northwest Collectors Conference – featuring collectors from Washington and Oregon – May 16-18. He says his goal and the mission of Nemo Media Group is to help clients successfully leverage public relations, social media, video and other marketing tools to increase their revenue, win new clients and enhance their brand online.
ABOUT NEMO MEDIA GROUP
Founded by former ACA International PR Director John Nemo, Nemo Media Group provides debt collection marketing services including PR, video production, social media, SEO, sales/lead generation tools, content writing, and website development for debt collection agencies nationwide.