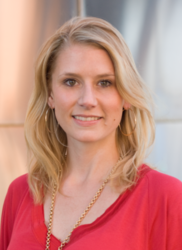 Los Angeles, CA (PRWEB) January 21, 2013
451 Marketing Senior Partner Thomas Lee announced today that Katie Gerber has been named Senior Account Director in the national communications agency's Los Angeles office.
"Katie's experience working with global brands like Sony and Disney, together with her expertise in the tech, consumer tech and gaming spaces, makes her the perfect person to lead our office located in the heart of Silicon Beach," said Lee.
Gerber has more than 13 years of public relations experience in the technology, video gaming and entertainment industries. At 451, she will be focused on developing and managing integrated public relations campaigns for the agency's growing roster of California-based clients.
Prior to joining 451 Marketing, Gerber founded 318 Agency, representing clients in the lifestyle, technology and digital entertainment spaces. Before that she worked with emerging global kids' entertainment company, Mind Candy, and also served as Vice President for Wonacott Communications, where she provided senior-level counsel for Wonacott's interactive entertainment and consumer electronics clients while helping to expand new business for the company.
Gerber also spent several years at Disney's Interactive Media Group, where she focused her efforts on evolving the growing family friendly online gaming business and worked on major franchises including Cars, Club Penguin, Disney Fairies and Pirates of the Caribbean.
Gerber began her career at A&R Partners/Edelman, handling media and analyst relations on large consumer and enterprise technology clients, such as Adobe, Inc., and palmOne. She later moved on to represent a variety of consumer tech and entertainment accounts including Hotwire, Pioneer Electronics, Sony Electronics, Sony Pictures Home Entertainment, THQ, Newegg.com and several independent online and mobile game publishers, among others. G holds a bachelor's degree in communications, with a focus on TV and video production, from Santa Clara University.
About 451 Marketing
451 Marketing is an award-winning communications agency that specializes in public relations, social media marketing and search marketing. Headquartered in Boston and representing Los Angeles, New York, San Diego, and Las Vegas, 451 Marketing works with brands to build awareness, engage customers, create fan loyalty, and drive business through a cutting-edge integrated communications approach. For more information, visit http://www.451marketing.com