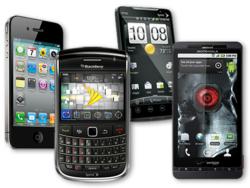 (PRWEB UK) 21 January 2013
It could be that part of a New Year's Resolution includes spending some time getting organized. Or with the Christmas receipts hard to keep up with and bills rolling in, in the long month of January, now could be a great time to clear the clutter. Protect Your Bubble, smart phone insurers, have some great apps to help with reducing paper and getting organised.
1. Shoeboxe, Free –Keeping track of lots of receipts can fast become a nightmare similar to herding cats together! With Shoeboxed, snap a picture of the receipt and the app handles the rest. Expense reports can be sent to Quickbooks, Quicken or CSV. They provide helpful support via phone and e-mail as well.
2. GroceryPal, Free– Eating well and better are common resolutions. Make a digital list with this app that organizes selections. It should sync with Tesco for the best deals. Grocery shopping just got simplified.
3. Pageonce Bills, Free – Welcome to simple account monitoring. As card bills roll in, take command of them with this handy app. Link all accounts to view statements, reminders and track payments all in one, easy, standard view. Although only available to use with a limited number of UK vendors as the popularity grows so will the vender available.
4. iXpsenselt £2.99– Budget and expenses tracking for business-minded. As well as tracking everyday spending habits, it can also track mileage and take snap shots of expenses receipts. It's still very useful for everyone to help curb bad spending habits and replace it with good ones.
5. Evernote, Free - Make a note of everything using to-do lists, voice memos and photos. Now, sync that note to a home computer, work computer or any device. Stop forgetting things. Unless, it is the phone that is forgotten!
Apps are useful, but if a phone, tablet or other device is stolen, broken or lost, issues may arise. Protect devices and gadgets with quality insurance from Protect Your Bubble. Visit Protect your bubble for additional information and a free quote
Get an instant quote for your gadgets via the following URLs:
Mobile Phone Insurance: uk.protectyourbubble.com/gi-mobile-phone-insurance.html
Gadget Insurance: uk.protectyourbubble.com/gadget-insurance/
iPhone Insurance: uk.protectyourbubble.com/ip-iphone-insurance.html
Socialise with Protect your bubble UK on the following social networks:
Facebook: facebook.com/ProtectYourBubble
Twitter: twitter.com/protectyrbubble
YouTube: youtube.com/protectyourbubble
# # #