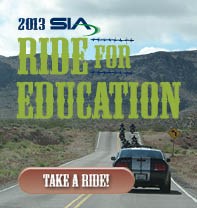 SIA is proud to be hosting this event to support first-responders.
Silver Spring, MD (PRWEB) January 17, 2013
Get your motor running and head out on the highway with the Security Industry Association (SIA) as it holds its 10th annual Ride for Education. The event, held in conjunction with ISC West (April 10-12), helps raise money to fund educational opportunities for first-responders.
The Ride for Education is a one-day trek that takes participants through some of the most scenic areas of southern Nevada, including Valley of Fire State Park. This year's ride is scheduled for Saturday, April 13, the day after the conclusion of ISC West. While most participants ride motorcycles during the event, sports cars and other vehicles are also welcome. Lunch will be provided to all participants, as will a specially designed "2013 Ride for Education" shirt.
All net proceeds from the event will go toward the SIA First Responders Scholarship Fund, which provides awards of $1,000 to law enforcement officers and firefighters for job-related education and training.
The registration fee is $40 per person ($30 if riding as a passenger). SIA has arranged for a special rental rate from Las Vegas Harley Davidson.
Law enforcement officers, firefighters and military personnel may participate at no charge.
"SIA is proud to be hosting this event to support first-responders," said Don Erickson, SIA's CEO. "The ride is a fun, unique way to close out the show and see some breathtaking areas outside of Las Vegas that are not part of the typical ISC West trip, and it's a great opportunity to help the public safety professionals who partner with our industry to protect us all."
For more information and to register, visit http://www.siaonline.org/ride.
The Security Industry Association (http://www.siaonline.org) is the leading trade association for electronic and physical security solution providers. SIA protects and advances its members' interests by advocating pro-industry policies and legislation at the federal and state levels; creating open industry standards that enable integration; advancing industry professionalism through education and training; opening global market opportunities; and fostering collaboration with other like-minded organizations. As a proud sponsor of ISC Expos and Conferences, and owner of the Securing New Ground Conference, SIA ensures its members have access to top-level buyers and influencers, as well as unparalleled learning and network opportunities.