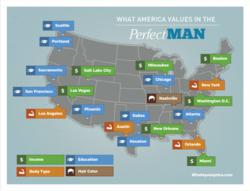 "Our study indicates that women look past profile pictures and also value certain intangibles when choosing a first date—success, intelligence, and social habits."
Los Angeles, CA (PRWEB) January 17, 2013
WhatsYourPrice.com, the world's largest dating-auction website, surveyed over 40,000 females across the US in order to determine America's definition of "The Perfect Man" based on the following male qualities: Income, Education, Hair Color, Eye Color, Body Type, and Vice.
Female members were asked to rank the most important qualities in a man. The answers were then weighted accordingly when determining the overall value of "The Perfect Man." Overall, women believed Education was the most important quality, followed by Income, Body Type, Hair Color, Eye Color, Drinking, and Smoking.
"In the online dating world, 'The Perfect Man' transcends superficial qualities such as looks and body type," says Brandon Wade, the CEO and Founder of WhatsYourPrice.com. "Our study indicates that women look past profile pictures and also value certain intangibles when choosing a first date—success, intelligence, and social habits."
The following qualities were weighted by importance and based on the responses of over 40,000 female members. The percentages indicate the likelihood of a first date with a woman. The more a man matches the most desirable qualities, the more likely a woman will date him.
The Perfect Man (% Chance for First Date)
1.) Education (30 Percent): Master's Degree
2.) Income (22 percent): $100,000 to $150,000
3.) Body Type (17 Percent): Athletic Build
4.) Hair Color (14 Percent): Brown
5.) Eye Color (12 Percent): Blue
6.) Drinking (4 Percent): Social Drinker
7.) Smoking (1 Percent): Non-Smoker
Based on the results of this study, America's perception of "The Perfect Man" earns $100,000 to $150,000 a year, obtained a Master's Degree, has brown hair with blue eyes, an athletic build, and is a social drinker who doesn't smoke.
"Our results accurately depict 'The Perfect Man' because unlike other dating websites, our members actually invest in first-date opportunities," says Wade. "A person's 'type' is more authentic when they put their money where their mouth is."
WhatsYourPrice.com is the world's largest online dating website where members bid for first dates. The website gives "generous" members the opportunity to date "attractive" members who may not even give them a chance on traditional dating websites.
For information regarding this study, or to schedule an interview with WhatsYourPrice.com CEO and Founder, Brandon Wade, please contact Leroy Velasquez at (702) 635-2440 or Press(at)WhatsYourPrice(dot)com.
About WhatsYourPrice.com WhatsYourPrice.com is the only online dating website where first dates are bought and sold, and has been featured on such outlets as the New York Times, CNN, Anderson and the Huffington Post. WhatsYourPrice.com was founded by Brandon Wade, Founder & CEO of a number of successful niche online dating websites including the number one Sugar Daddy Dating website - SeekingArrangement.com, the number one travel dating website - MissTravel.com, and the millionaire matchmaker website - SeekingMillionaire.com.