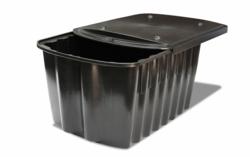 West Chicago, IL (PRWEB) January 19, 2013
Norix Group, a leading provider of specialized corrections industry furniture and fixtures, introduces a new type of heavy-duty tote box called Citadel™ for the storage of inmates' records or other personal property. The allowable in-cell container offers superior storage capacity and enhanced safety features to meet the specialized needs of detention facilities.
The Citadel™ storage box is engineered for superior strength without excessive weight. The innovative, ribbed construction delivers molded-in 3D dimensional structure with a 2.2 cu.ft. storage capacity. The flexible polypropylene material absorbs impact, while the radiused corners and smooth edges offer greater safety. The Citadel™ box can be installed with a bunk-rail system to create drawer storage under a steel bunk.
The unique lid design on the Citadel™ thwarts tampering with a secure, positive engagement to the box, making it difficult to pop-off. The built-in ergonomic handle features a molded hasp for locking. Raised nubs on the top of the lid marry with the bottom of the tote box to make stacking neat and efficient. Citadel™ is certified to pass CAL TB 133 flammability test and is 100% recyclable.
"Citadel™ is the next generation of detention-grade storage containers. The bigger size, rounded corners, and one-of-a-kind secure lid design are important features in a corrections environment," said Brad Karl, Product Manager for Norix Group. "Options like the flexibility of using it as either a box or a bunk drawer come from having a long and collaborative history with correctional facility managers."
Norix will debut Citadel™ at the 2013 American Correctional Association Winter Conference in Houston, Texas, January 25-30. Specifications and images for downloading can be found at: http://www.norix.com/citadel.asp . For other specialized furnishings for jails and prisons, please visit: http://www.norix.com/correctional-furniture.asp
###
About Norix
Norix offers the most complete line of high-quality, durable furniture for challenging environments. For more than 25 years Norix has specialized in providing secure furnishings and fixtures for corrections, behavioral healthcare, transportation, educational institutions, fire/police stations, commercial facilities, shelters, and military installations. The privately held company is headquartered in West Chicago, IL with sales representatives and dealers throughout the U.S. In 2012, Norix launched Safe Environments a news and information blog serving architects, designers, administrators, and facility managers involved in the design, construction, and operation of challenging environments. For more information, call 630.957.4433 or visit: http://www.norix.com