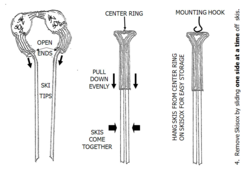 Elma, NY (PRWEB) January 18, 2013
The all American made products store has recently teamed up with Skisox to bring another 100% U.S. manufactured item. Skisox brings a simple system to keep skis protected and stored.
Skisox is a multi-functional product that protects the edges and bases of your skis from damage, wear and rust along with Preserving wax and tune-ups. It also enables consumers to hang their skis when not in use, thereby protecting them from damage occurring during storage. All Skisox are 100% made in the U.S.A. and come in multiple different colors.
Skisox also does their part to stay "Green" by offering their SkisoxECO line which is made from recycled plastics. The SkisoxECO line is also equipped with Coolmax, a moisture-wicking material that will protect skis from rust. Additionally, Skisox are machine washable.
All Skisox are designed to hold skis together while keeping two layer of material between the sharp edges and the delicate bases.
Consumers can find 100% American made Skisox by visiting the Made In America Store.
The Made In America Store is the only brick and mortar store that sells 100% made in the United States products from over 350 vendors. Consumers can visit http://www.MadeInAmericaStore.com or call 716-652-4872 to get more information or shop our catalog of over 3,500 items. Both Active Duty Military Personnel and U.S. Military Veterans receive a 10% discount every day. Followers of the "Made In America" movement can keep updated with the Made In America Store through Facebook, Twitter, Google+, Pinterest, FourSquare and even their own blog on Wordpress!