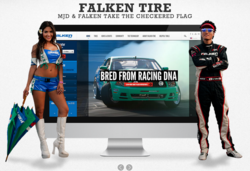 San Diego, CA (PRWEB) January 21, 2013
Falken Tire came to MJD Interactive Agency with a unique challenge. They needed a new web presence to target a new and growing demographic, without alienating their long time fans. Making this challenge even more difficult was the fact that their long time fans also happen to be young, hard core racing diehards - the hardest demographic to reach, and keep. How could the digital agency build a site that could retain the cool factor of racing, while showing soccer moms that their tires are safe and dependable? The answer was user based design.
MJD conducted dozens of interviews with internal Falken Tire staff, their biggest customers, their competition, their fans, and their target market. The findings showed clearly that there were three groups of users: young, male race fans; tire dealers; and moms and dads looking for the best tire for their money. Armed with this information, MJD went to work.
The site was designed to provide specific experiences for each user, or persona. For race fans, it was decided to use Falken's highly active social networks to pull in content to the site. They would also get a heavy dose of photos and videos from races around the world, and hot cars in general. The dealers would get an easy to use calculator to see which Falken tires fit on a particular make and model of a car. Moms and dads could also use that tool, as well as a store finder. All three groups would get a highly animated, scrolling story of the amazing technology that goes into a Falken tire. That page shows racers why Falken tires are high performance, dealers why they are better than the competition, and moms and dads that the tires will last a very long time, are safe, and a good value.
"Perhaps one of the most important 'truths' that we found about Falken while doing our research was that both their core racing fans, and their expanded demographic were increasingly using mobile devices to access the site. A race fan would bring up their phone during a race, snap some photos, and pull up the Falken site to get info on the drivers or the models showcasing the cars," said Jeremy Duimstra, Co-Founder of MJD. "Moms and dads would go shopping for tires on a weekend and would compare features and cost right in a showroom on their phones as well. We had a great solution for that."
That solution was a completely "responsive", mobile ready web site. The responsive web is a relatively new concept in web development. It means that the site displays differently for specific devices like a laptop, a tablet, or a smartphone. Typically, a visitor to the site will want streamlined content and a different view of that content when they are using a smaller screen. MJD delivered that experience.
"From the beginning MJD and Falken Tire connected and forged a partnership to build a new, highly advanced website," said James Yim, Senior Manager of Creative & Advertising at Falken Tire. "From introducing us to the Drupal content management system, Responsive Mobile Design, and Parallax animation, MJD showed us the options to stay ahead of the curve. We have developed a comprehensive site that will keep Falken at the forefront of online communication."
"The site looks amazing," added Yim. "MJD has an incredibly dedicated team that helped us overcome numerous challenges over the course of many weeks. MJD did a heck of a job, and I'm grateful for the hard work and talent their team bestowed on this project."
"Falken Tire is a perfect client for us," said Duimstra. "They are a brand that is not only willing to do something different, but they embrace it. They are always willing to take a risk to go further than others would dare. That's why their fans love them so much. They are cool without trying to be. They are authentic."
About MJD Interactive Agency
MJD Interactive Agency helps our clients build brands and achieve business objectives with innovative, award winning digital experiences. We are Redefining Interactive™ - bringing the medium to a new level by building immersive experiences wherever our client's audience engages with them in the digital world.
Today's consumer wakes up with a smartphone in hand, moves to the office computer, shops surrounded by technology, and finally relaxes with some evening television. We are passionate about building enchanting interactive experiences for each of these touch points.
MJD Clients include: Titleist Performance Institue, DJO Global, Riot Games, Falken Tires, Bad Boy, NBC Universal, Absolut Vodka, Qualcomm, Marzetti, Pfizer, UCSD, SDSU, LG, Althea Technologies, and many others.
About Falken Tire
Falken Tire, a Sumitomo Rubber Industries brand, was launched in its native country of Japan in 1983 and introduced to the North American market two years later. At its inception, Falken was created as the flagship high performance radial brand under Ohtsu Tire and Rubber. Now, more than two and a half decades later, Falken has become a well-known, stand-alone brand that focuses on UHP (Ultra High Performance) products while utilizing professional motorsports to further develop and improve products for worldwide distribution.