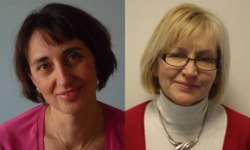 Theano and Svetlana bring extensive experience in designing complex studies and consulting with senior clients.
New York, NY (PRWEB) January 21, 2013
Kantar Health, a leading global healthcare advisory and marketing research company, has added two senior researchers to its UK team who have extensive experience in healthcare and consumer markets.
Theano Anasta, Ph.D., joins Kantar Health from Holden Pearmain, where she held various positions including Head of Advanced Methods, Client Consulting, and Deputy Managing Director. Previously, Dr. Anasta was a director at the Marketing Science Centre at Research International UK. She brings significant strength to Kantar Health's increasingly successful consulting offer in both local and international engagements, and her vast experience in advanced methodologies will enhance the company's thought leadership in the UK. Dr. Anasta holds a Master's degree in Research Methods and a Ph.D. in Cognitive Psychology from University College London.
Svetlana Gogolina rejoins Kantar Health from Holden Pearmain, where she worked extensively in Advanced Methods. Her working knowledge of the pharmaceutical sector combined with many years' experience designing custom studies for pharmaceutical clients strengthens the Kantar Health team in this increasingly sought-after skillset.
"Our clients are changing fast, and the ability to demonstrate excellence in study design is becoming a clear competitive advantage in today's pharmaceutical market," said Jim Needell, Managing Director, UK. "Theano and Svetlana bring extensive experience in designing complex studies and consulting with senior clients. They will help us deliver on our objectives of meeting our clients' growing needs and addressing their central business questions around managing product launch programs and how to promote and measure their performance."
About Kantar Health (http://www.kantarhealth.com)
Kantar Health is a global, evidence-based decision support partner to the world's leading pharmaceutical, biotech, device and diagnostic companies. Our 700+ staff act as catalysts, working closely with customers to drive distinctive decision-making that helps them prioritize product development and portfolios, differentiate their brands and ensure product profitability after launch. We are unique in that we bring together clinical, medical and methodological expertise, commercial/marketing know-how and proprietary data. It is this rare combination, together with our unparalleled stakeholder reach, that enables us to mobilize incisive, imaginative and timely ROI-driven solutions, empowering clients to deliver better healthcare options to their customers.
With offices in over 40 countries, we excel at solving technically or logistically challenging projects around the world and across the product lifecycle, combining on-the-ground know-how and global and national proprietary data to quickly identify value drivers. As part of WPP, we can also incorporate highly innovative thinking from outside the industry into our solutions.