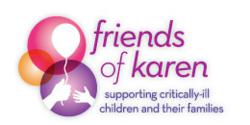 Were happy not only to provide these children with gifts that they actually requested but to also provide the parents the ability to spend more precious time together with their family.
- Bears 2 Go & CLEContactLenses.com
Elmsford, New York (PRWEB) January 17, 2013
During the Holidays, families caring for a child with a life threatening illness often don't have time or the mind set to shop for gifts and prepare for holiday festivities. Now in its 27th year, Friends of Karen adopt a family holiday gifts for kids program make sure that each of their sick children and their siblings receives special gifts just for them which is something every child dreams of for the holidays.
The Friends of Karen organization is based out of Pudys, which is located in Westchester County, New York. The friends of Karen organization now in its 34th year, provides emotional, financial and advocacy support for children with a life-threatening illness and their families, in order to help keep them stable, functioning and able to cope.
Bears 2 Go is the exclusive wholesaler of Pawsenclaws branded merchandise. The products Bears 2 Go provides consist of stylish un-stuffed animal skins along with outfits and various accessories. Bears 2 Go makes every effort to stay on top of current market trends and carry specialty items. For the Friends of Karen gift, each plush bear was stuffed and dressed according to each child's needs.
CleContactLenses.com is an online e-tailer that sells contact lenses, contact lens removers, designer sunglasses, designer optical frames, and other items that are eye care related. The New York based company enters its 14th year in business online which is supervised by a team of eye care professionals, Ophthalmologists, Optometrists, and Opticians to best service its patients needs and questions.
During the holidays, Bears 2 Go and CLEContactLenses.com reached out to Friends of Karen to see if they could help provide plush stuffed animals and other mini plush toys to the children. Judy the Executive Director immediately said yes to this generous kind act. Bears 2 Go immediately put together a variety of plush stuffed animals and other mini plush toys and sent them to the Friends of Karen headquarters in Purdys, NY.
After the holidays Judy, the Executive Director, sent Bears 2 Go and CLEContactLenses.com a letter thanking them for their generous kind act. In that letter, Judy the Executive Director expressed her deep appreciation and even shared a comment from one of the children's parents which was "The most important thing that Friends of Karen provided was they sent us gifts from our children's wish list, allowing me to stay home with the family, baking cookies and enjoying more precious time together.. I still remember our treasured Christmas and the caring people at Friends of Karen who have done so much for our family"
Both Bears 2 Go and CLEContactLenses.com both agreed that they were happy not only to provide these children with gifts that they actually requested but to also provide the parents the ability to spend more precious time together with their family and not having to worry about dealing with the holiday madness to find that perfect gift.