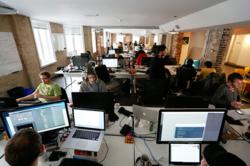 [BNOTIONS] represents the spirit of innovation and entrepreneurship
Toronto, ON (PRWEB) January 18, 2013
BNOTIONS will open its doors to the public at its first annual open house on Saturday, February 9th, 2013. Alkarim Nasser, founding partner at BNOTIONS, says he hopes the event will allow the company to introduce the business to visitors, start new friendships in the tech community, and showcase some highlights of the last year.
And what a year it's been for the BNOTIONS team: A move into its new St. Lawrence Market offices, Nasser's spot on Marketing magazine's Top 30 Under 30, the BDO Business Value Award, and a spot on Profit magazine's 2012 Hot 50 growth companies in Canada. These honours haven't gone unnoticed. Ontario's Minister of Economic Development and Innovation, Brad Duguid, sent along his congratulations and high praise:
"By creating new jobs and contributing to Ontario's GDP, companies like BNOTIONS are an integral part of the province's economy ...You represent the spirit of innovation and entrepreneurship that is leading this province into the future."
Nasser says he is honoured by the recognition and especially pleased to be acknowledged as an innovator. "We've long said that BNOTIONS is not a tech company, it's an innovation company. If you look at the brands we're partnered with--Samsung, Sport Chek, American Express --I think you'll see a commonality of purpose and enthusiasm for innovation there." Nasser adds that such enthusiasm is the fabric of the BNOTIONS culture and family. "We couldn't do what we do without the hardworking, talented, and brilliant individuals who make up the BNOTIONS family." And that family, Nasser notes, is about to expand.
The company, founded in 2008, has doubled in size every year it's been in business; 2013 promises to be no exception. BNOTIONS is looking for a diverse range of positions this year, including Account Managers, Senior Designers, Data Scientists, Product managers and more!
For more information and to register, click here