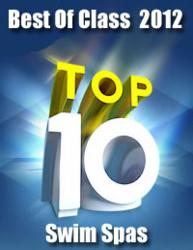 Vista, CA (PRWEB) January 18, 2013
Dimension One Spas (D1) - a leader in the design and manufacture of the world's most advanced hot tubs and swim spas - is a recipient of the "Top Ten Award" from PoolAndSpa.com for product excellence in 2012.
PoolAndSpa.com, a Nevada based pool and spa website, announced the winners of their 2012 "Top 10 Awards" for companies in the pool and spa industry on December 30, 2012. The "Top 10 Award Program" recognizes outstanding products, innovation and customer service in the pool & spa industry.
PoolAndSpa.com helped select the "Top 10" Spas, Swimming Pools & Swim Spa brands of 2012. This is different from their regular yearly "Best Of Class" program. These companies are the Top 10 most highly rated for 2012. Various sources of information were gathered and analyzed to choose the winners in each category. Polling data was derived from various third-party consumer & industry surveys, as well as input from many of PoolAndSpa.com's in-house editors and CSR's.
D1 received high marks for both spas and swim spas this year, with a special emphasis on AquaFit Systems. The AquaFit line of swim spas brings together science, technology and design to create a full underwater gym experience. The four unique models include—the Sport, Play, Pro and Plus. To learn more, go to http://www.d1spas.com/swimspas-afs.html.
###
Company History:
Founded in Vista, California by Bob and Linda Hallam in 1977, Dimension One Spas is a leading manufacturer of award-winning hot tubs and swim spas and home to the world's first curvilinear spa. D1 Spas are sold through a network of more than 250 dealers in the United States, and 450 dealers worldwide in 30 countries. The company's four product lines and patented features offer a higher class of design, performance and value that meet a variety of consumer needs. For more information about Dimension One Spas, its products and practices, please visit: http://www.d1spas.com.