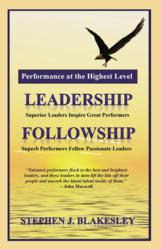 "I remember many discussions about whether or not the boom in Houston would ever end. The consensus was that it would not." We were wrong!"
Houston, TX (PRWEB) January 22, 2013
Business owners and entrepreneurs can breath a little easier now that Performance At The Highest Level is scheduled for release. The book draws from both past and present experiences to build a pathway to business success. Economic conditions in the United States require that business owners prepare exceptionally well if they are to succeed. Performance at the Highest Level dives deeply in the the essentials of financial success and provides a way to the TOP.
The Latest release, by GMS Publishing of Best Selling Author, Stephen J. Blakesley's book on performance is written to aid entrepreneurs and business owners in the growth of their companies.
This book "Performance at the Highest Level," has the answers to questions essential to getting what you want from your business. A trilogy of sorts, the book delivers proven methods for growing leaders, enhancing performance and hiring the best.
Author Blakesley's nearly 50 years of entrepreneurial experience is what makes this publication so appealing. Not only has Blakesley, founded and succeeded in several business ventures, he has experience business failure. He has "been there and done that," as some would say.