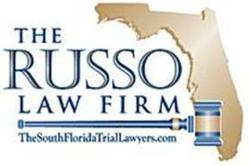 We are moving in a new direction, branching out and taking on more challenging projects,
Weston, Florida (PRWEB) January 17, 2013
Anthony J. Russo Jr., announced today that he has formed a new law firm, The Russo Law Firm based in Weston, Florida. Russo was formerly the managing partner of Westonlawyers (previously known as Freedland Russo, PL) where his firm was instrumental along with co-counsel in settling the first Whistleblower case in United States history that topped $1 billion (Civil Action #03943). "Times are changing and we needed to change with them," said Russo from his offices in Weston, Florida, the same offices once occupied by Westonlawyers. "We are moving in a new direction, branching out and taking on more challenging projects," Russo said.
One of the newest aspects of the firm is Russo's new partner, Attorney, Leila Billings. Billings is not only a tireless advocate for her clients, she also has a long history of community service. In 2011 she was named Volunteer of the Year for Volunteer Broward in honor of her 400 plus hours of community service. She is also the founder of Counselors Advocating Resources for the Elderly, Inc. (C.A.R.E.) which is a non for profit organization that provides pro bono legal services and support to the elderly in the South Florida community. Billings said, "I'm honored to be a part of the new firm and its plans for the future to assist the community."
Rounding out the new team at The Russo Law Firm is none other than the founding Mayor of the City of Weston, Attorney, Harry Rosen. Rosen has a long and well proven track record as a trial attorney, civic leader and dedicated volunteer. "I have spent many years as an attorney and partner in several firms. I have never been more excited than I am now. The legal team that Anthony J. Russo, Jr. has assembled along with the support staff is the best in the business," Rosen said.
Russo says his new firm will primarily focus on personal injury, negligence and medical malpractice. His goal is to continue to grow the firm to meet the legal needs of the South Florida community.
To learn more about The Russo Law Firm you can visit them at http://www.therussofirm.com. You can also find them on Facebook at http://www.facebook.com/therussofirm or follow them on twitter @therussofirm.