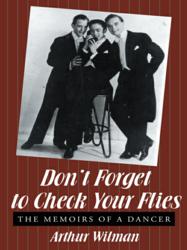 A young actor asked me about my early life and after I had answered all his questions, I realized I had a basis for a book," Wilman says. "Then I realized I could share my story to inspire others.
(PRWEB) January 21, 2013
Sometimes the spotlight belongs on the performers in the back row.
Highlighting the many interesting and famous people retired theatre performer Arthur Wilman has met in his lifetime, Wilman exposes the both glamour and hardship of the entertainment industry in his new memoir, "Don't Forget To Check Your Flies: The Memoirs of a Dancer."
Wilman has led a rich life: he met renowned choreographer Jack Billings, broke into the entertainment industry as a variety performer at age 16, and performed in various musicals including Annie Get Your Gun, traveling all over London and the Provinces of the United Kingdom.
"When my doctor suggested that I go to dance classes in order to build up my stamina, I enrolled in a tap and ballet class in Manchester," Wilman says. "This is when I realized I was meant to be a dancer."
"Don't Forget to Check Your Flies" covers events in Wilman's life such as his meeting choreographer Jack Billings and the effect he had on Wilman's career, his time spent in the Royal Navy, and his experiences at The Guildhall School of Music and Drama later in his career, each shaping him into the fascinating person he is today.
Through the book, Wilman has one ultimate goal: To share the events of his life with readers, both those who have been involved in the entertainment industry and those who enjoy reading about it.
"A young actor asked me about my early life and after I had answered all his questions, I realized I had a basis for a book," Wilman says. "Then I realized I could share my story to inspire others."
"Don't Forget To Check Your Flies: The Memoirs of a Dancer" by Arthur Wilman
Paperback, £18.95/$24.99
ISBN: 978-1-4685-7792-1
Available at amazon.com, barnesandnoble.com, bookstore.authorhouse.com
About the author
Arthur, Wilman, now in his eighties, is retired and lives in Surrey, England. During his career, Wilman performed as a dancer in Variety and was involved in several musical productions: Annie Get Your Gun, Kiss Me Kate, Guys and Dolls and The Bells are Ringing. He spent two years in the National Service in the Royal Navy, after his stint in Variety and before his involvement in musicals. Wilman was forced to retire from his musical career due to various serious illnesses, and soon after became an actor at the Guildhall School of Music and Drama, winning the "City of London Prize for Twentieth Century Drama." He still maintains a strong interest in whatever is happening in the world of show business.
# # #
**FOR IMMEDIATE RELEASE**
EDITORS: For review copies or interview requests, contact:
Andrea Hawman
ahawman(at)bohlsengroup(dot)com | 317.602.7137
(When requesting a review copy, please provide a street address.)