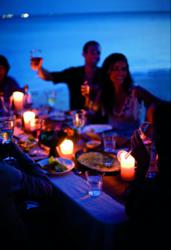 At NIZUC, our guests will be able to truly enjoy fine dining in a variety of settings and with a vast array of flavors all under one roof.
Punta Nizuc, Cancun, Mexico (PRWEB) January 17, 2013
The award-winning hotel chain, Las Brisas Hotel Collection announces the opening of their newest property, NIZUC Resort & Spa at the gateway of the Riviera Maya on the most desired land of the Mayan region called Punta Nizuc. The coveted resort is the first for the leading hotel group's elite brand and offers guests the opportunity to experience not only unsurpassed luxury, but to take part in the region's most exquisite dining, offered throughout the resort's six world-class restaurants.
Led by Executive Chef Vincent Wallez, NIZUC's signature restaurants include: Ramona, a contemporary interpretation of traditional Mexican cuisine; Terra Nostra, offering Mediterranean fare with sumptuous pastas and wood-fired specialties; La Punta Grill & Lounge, a casual, outdoor eatery featuring succulent grilled meats and seafood; Ni, featuring the tantalizing tastes of Peru including tiraditos and ceviches; Indochine, an exotic and heavenly combination of various Asian recipes, and Café de La Playa, specializing in savory breakfast and brunch selections. The resort, with its decadent dining options, sets a new standard for culinary excellence in the Yucatán Peninsula.
"Our real focus is on creating an innovative culinary experience that sets us apart from other resorts in the area. At NIZUC, our guests will be able to truly enjoy fine dining in a variety of settings and with a vast array of flavors all under one roof," comments NIZUC Resort & Spa's Executive Chef, Vincent Wallez. "Our diverse lineup of restaurants will leave our guests feeling like they have travelled not only to Mexico but around the world. We want to offer a true gastronomic experience, and our culinary offerings are among some of the best in the country and the world."
Under Wallez's executive direction, and at the side of NIZUC's other master chefs like Arnaldo San, Daniele Tonin, Manuel Eiazar, Rodrigo Alcocer; Sommelier, Jonatán Ruiz, and Food and Beverage Director, Arturo Esponda, NIZUC Resort & Spa's six exceptional restaurants will cover a range of tastes from Mexico, South America, the Far East and the Mediterranean.
Each of NIZUC's unique establishments offers a distinct ambiance where patrons can experience a setting that is harmoniously conducive to each cuisine. Whether dining outdoors "alfresco" under the thatch roof of La Punta Grill & Lounge, enjoying the relaxed atmosphere of Café de la Playa, or dining within the exclusivity of Ramona with its private wine cellar dining room and Chef's Table, NIZUC is a one-of-a-kind getaway for travelers with a taste for only the very best in life.
The vision of the Mexico City-based Las Brisas Hotel Collection, NIZUC Resort & Spa is the flagship property of the brand's new elite luxury resort line. Las Brisas owns and manages Mexico's most sought after properties. This premier hotel group has now created their signature Exquisitely Refined experience exclusively for NIZUC, exceeding the expectations of even the most discerning traveler. The NIZUC Resorts & Spa brand complements the portfolio that this leading hotel group has built for the national and international markets by utilizing their experience to embody everything that their name is synonymous with: intimacy, luxury and discretion expressed within the context of modern Mexican hospitality. Nizuc Resort & Spa is a proud member of Preferred Hotels & Resorts. NIZUC — A Mexican Spirit. A Mayan Soul.
For information, updates and future package opportunities visit http://www.nizuc.com, contact your professional travel agent, or call 1-855-MY-NIZUC from the U.S. or 1-800-MY-NIZUC from Mexico.