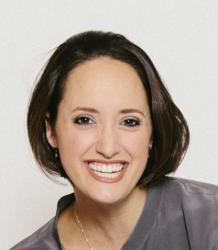 Irvine, CA (PRWEB) January 22, 2013
Dan Bernstein, President and CEO of the Merage Jewish Community Center in Irvine announced that Nicole Ben-Artzi has been promoted to Director of the JCC's Early Childhood Learning Center. "We couldn't be more pleased to have Nicole Ben-Artzi as our Director. Nicole brings tremendous education and vast experience to our team." Nicole, who is currently the Merage JCC Assistant ECLC Director, will take over in February when the current preschool director Peter Blair moves to Milwaukee to assume the position of assistant JCC director. The Merage JCC's preschool, for children six weeks to through transitional kindergarten, offers an emergent curriculum designed to support children's spirit of inquiry and opportunities for large and small group exploration.
Nicole Ben-Artzi holds a Master's degree in Education with honors from Pepperdine University, as well as a Bachelor's degree in Communication and Fine Arts. She also holds a California Multi-subject Teaching Accreditation. She has eleven years of teaching experience working at the prestigious Wilshire Boulevard Temple Brawerman Elementary School in Los Angeles and the progressive Rodeph Sholom School in New York City.
Nicole is enthusiastically embracing her new role, "The ECLC is such an amazing place where parents, educators and students can collaborate, learn and grow as a family. I am proud that our faculty shares a passion for learning and takes pride in sharing our core values with every member: Community-Kehillah, Respect-Kavod, Peace-Shalom, Love-Ahavah, Inquiry-D'rash and Responsibility-Tikkun Olam. I am thrilled to continue with our school's philosophy and look forward to educating our children to become lifelong learners. All parents want the best for their children: a warm welcoming environment where families are enriched and children can wonder, create, share, discover, smile, understand, explore, imagine, laugh, and PLAY!"
Filling Nicole's position as Assistant Director of the Early Childhood Learning Center is Tracy W. Zieve, MA. Tracy was formerly the Child Development Lead Supervising Teacher at the UCLA Fernald Infant Development Program where she promoted the development of children through daily emergent curricula and routines. She also trained, supervised and mentored undergraduate student interns from Pierce Community College. Tracy has worked with children ranging in ages from birth through age 18, including children who are mainstream functioning to those with debilitating developmental delays. She is a member of both NAEYC (National Association for the Education of Young Children) and CAEYC (California Association for the Education of Young Children). Tracy received her MA from Pepperdine's Graduate School of Education and Psychology. Tracy states that, "It is my goal to combine my range of experience with my ability to be an organized, methodical, and compassionate coordinator who will make a positive contribution to the preschool community at the Merage JCC."
Dan Bernstein also announced that Adena Kaufman, MA, has been named the JCC's Early Childhood Learning Center Admissions Director. Adena has extensive experience tutoring students in reading, writing, and mathematics. She has worked as an instructional aide at Vista Verde Elementary School in Irvine and as a prekindergarten and kindergarten teacher at Temple Bat Yahm in Newport Beach. She has designed curriculum, created, planned, and implemented developmentally appropriate lesson plans, assisted with staff development and worked on continuing staff education. Adena has also chaired numerous volunteer committees for Vista Verde and the Merage Jewish Community Center. Adena earned a Master's degree in Education from Pepperdine University.
The Merage JCC's Early Childhood Education Center, located at 1 Federation Way in Irvine offers a variety of programs including an infant/toddler center (ITC) for children six weeks to two years; a parenting center; preschool programs for ages 18 months through six years; Transitional Kindergarten; and enrichment programs including swimming, art, music and sports.