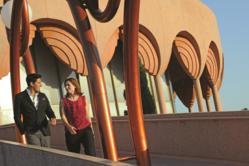 Theatre goers will have their calendars full this spring in Tempe, Arizona.
Tempe, AZ (PRWEB) January 18, 2013
Theatre goers will have their calendars full this spring in Tempe, Arizona. From award winning Broadway shows, to plays for young audiences, to avant-garde productions, audiences are sure to be entertained. For more information about theatre performances taking place in Tempe, visit the Tempe Tourism Office at http://www.TempeTourism.com or call 800-283-6734.
In its 22nd season, the PROGRESSIVE® Broadway Across America – Arizona series at ASU Gammage is the largest theatrical subscription series in Arizona and the most successful Broadway series in the country. Tickets, starting under $30, are on sale now. For more information, visit http://www.asugammage.com.
The remaining shows this season include:
WAR HORSE – February 5-10, 2013
MEMPHIS – March 5-10, 2013
DISNEY'S BEAUTY AND THE BEAST – April 9–14, 2013
FLASHDANCE – April 30-May 5, 2013
SISTER ACT – June 25-30, 2013
ASU Gammage, a historic hall designed by internationally-renowned architect Frank Lloyd Wright, is located within walking distance of the downtown Mill Avenue District. Twelve restaurants along Mill Avenue will offer "Dinner and a Show" deals for theater patrons. Upon presentation of an ASU Gammage ticket stub on the day of each show, guests will receive discounts or special offers from restaurants such as Canteen Modern Tequila Bar, Monti's La Casa Vieja, La Bocca Pizzeria & Wine Bar, Z'Tejas Southwestern Grill and Rula Bula Irish Pub and Restaurant. Theatre patrons will also receive four hours of free parking at designated parking structures with their ticket stub. ASU Gammage is located on the Arizona State University campus at 1200 South Forest Avenue, Tempe, AZ 85281.
Childsplay, Arizona's professional theatre company for young audiences and families is showcasing three exciting shows this spring. Families will be thrilled with Childsplay's engaging sets, colorful costumes and talented actors and actresses.
The remaining shows this season include:
Boats – March 30-31, 2013
Recipe for Disaster! – Weekends April 6-14, 2013
A Wrinkle in Time – Weekends April 21-May 26, 2013
Childsplay performances are held at the Tempe Center for the Arts, a state-of-the art facility providing visual and performing arts experiences to the community including the Lakeshore Jazz Series, Tempe Symphony Orchestra, Tempe Comedy Concert Series and Walk-In Wednesdays Open Mic Night. Guests can also enjoy the TCA Gallery, featuring rotating, themed exhibitions throughout the year. On display now through May 25 is "Green Revolution," an eco-friendly, green-themed exhibition that engages visitors by addressing critical environmental issues concerning the local community. The Tempe Center for the Arts is located at 700 West Rio Salado Parkway, Tempe, AZ 85281.
Located in the heart of downtown Tempe, Stray Cat Theatre, offers audiences contemporary, thought-provoking material. Known for ground breaking productions, the next generation of theatre goers are sure to be inspired. The spring season includes Sons of The Prophet, on stage February 15 – March 2. A 2012 Pulitzer Prize Finalist and hailed as one of the Top 10 Plays of 2011 from The New York Times, it's one not to be missed. This brutally funny comedy about family, culture and how where we come from, interprets how people cope with wounds that just won't heal. Performances are held at the Tempe Performing Arts Center at 132 E. 6th Street, Tempe, AZ 85281.
View the complete Tempe calendar of events or call 800-283-6734 for more Tempe event information.
About Tempe Tourism Office
The Tempe Tourism Office is a non-profit organization devoted to marketing Tempe, Arizona as a desirable visitor and group destination site. The Tempe Tourism Office's mission is to provide visitors, media professionals and meeting planners with information on Tempe hotels, Tempe restaurants, Tempe entertainment and local points of interest. To learn more about Tempe, Arizona please call 480-894-8158 or 800-283-6734 or visit our website.