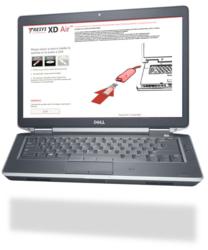 This latest version of XD Air is a milestone in that it is the first wholly-independent release of the product...The result is an assured airgap solution with nearly all new features driven by actual customer usage.
Columbia, MD (PRWEB) January 17, 2013
Tresys Technology, a provider of technology and engineering services for customers with high-security requirements, today announced the company has made Tresys XD AirTM version 4.2 generally available. All recent product enhancements are the direct result of requests and requirements made to Tresys by new and existing customers in the Department of Defense (DoD), Intelligence, and Critical Infrastructure communities.
XD Air, a kiosk-based appliance, cleanses files on portable media to mitigate the risk that a device has for introducing malicious content into a network while shielding the inspection platform from modification. XD Air is also instrumental in inspecting—and aiding in the prevention of—sensitive or classified data content leaving a facility. Recent global events such as Buckshot Yankee, Stuxnet, and the WikiLeaks exfiltration have highlighted the vulnerabilities that high-security operating environments face, causing organizations to seek threat vector mitigation capabilities to reduce their exposure.
XD Air enforces the only operating policy that can protect an environment from Zero-Day malware exploits—permitting only known good content to enter a facility, network, or system. By comparison, traditional anti-virus and anti-malware generally identify only known bad, which leaves the system vulnerable to exploits that are yet undiscovered. XD Air is also the only U.S. Cyber Command-approved tool for the transfer of classified data using portable media. [U.S. DoD personnel may request specific guidance document (Ref: USCYBERCOM CTO 10-084) through official channels.]
Product enhancements include migration to Assured File Transfer (AFT) 1.3 which enables support for Microsoft Office® 2010 file types as well as UTF-8 (Unicode); ability to process file sizes up to 1 GB; support for additional media types including legacy SCADA devices, SD cards, and compact flash media; ability to process USB hard disks up to 250 GB in size as well as floppy disks; and the capability to sign destination media for secure distribution to another site using XD Air. A complete list of enhancements can be found at http://www.tresys.com/xd-air.php.
"This latest version of XD Air is a milestone in that it is the first wholly-independent release of the product that was originally developed with and for a DoD customer," said Tresys CEO Gary Latham. "As an increasingly wider audience of customers for XD Air has begun to field the product—particularly in the Critical Infrastructure space—we have been able to further engage with our diverse market to responsively and continually enhance our offering to meet specific use cases and requirements. The result is an assured airgap solution with nearly all new features driven by actual customer usage."
XD Air version 4.2 is now generally available for shipping. XD Air and required software renewal maintenance can be procured via GSA Schedule GS-35F-0074S, SIN 132-8, Part # XD-A (XD Air product) and SIN 132-12, Part # XD-A_M (XD Air maintenance). For immediate orders or procurement support, please call 202-296-5505 or email sales@winvale.com.
About Tresys Technology
Based in Columbia, Maryland, with offices in Ashburn, VA, Tresys Technology solves the most complex information security problems for a wide array of defense, intelligence, and commercial customers. Tresys provides innovative product and services solutions for hard problems in Cross Domain, Deep Content Inspection, secure operating systems—including SELinux—mobile devices and OSs, and software assurance. Our knowledge of the secure design, certification, and accreditation of complicated custom hardware and software solutions, combined with insight into the sophisticated requirements of our customers, allows us to deliver innovative solutions to modern security challenges. The experience gained from solving real-world problems has enabled Tresys to develop industry-leading and authoritative services. For more information, visit: http://www.tresys.com.