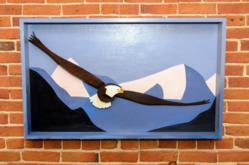 Concord, NH (PRWEB) January 18, 2013
Charter Trust Company is currently hosting an exhibit by relief sculptor Mark Vernon. Vernon's works can be viewed in the Concord, NH office between the hours of 8:30 am and 5:00 pm, Monday through Friday (excluding holidays).
Mark Vernon creates relief sculptures, three-dimensional sculptures, mobiles and layered compositions. Most of the sculptures and mobiles are made from varying thickness and kinds of wood. The wood is cut, shaped and painted with acrylic paint. The wooden pieces are cut with multiple faces or surfaces, thus providing a unique means to create depth and to utilize color.
Founded in 1984, Charter Trust Company is a privately held wealth management firm headquartered in Concord NH and chartered by the State of New Hampshire Banking Department. With 7 offices and over 1.5 billion in client assets, Charter Trust Company is the largest locally owned investment management firm in Northern New England. Fiduciaries for clients in 43 states and 3 countries, our Wealth Advisors and Investment Officers work confidentially with individuals and families to create, manage and preserve wealth.
For more information about the artist and to view other works, visit his website: MarkVernonArt.com
For more information about Charter Trust Company, visit our website: CharterTrust.com