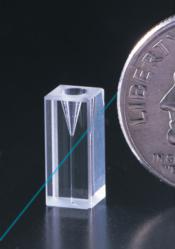 If you are looking for a micro flow channel cell there is no better place to look!
Farmingdale, NY (PRWEB) January 21, 2013
NSG Precision Cells, a custom manufacturer of quality cuvettes and flow cells for over 50 years is proud to present their newly refined quartz micro flow channel cells. With extremely precise tolerances and immaculate technique, NSG's customers always come back for more.
With superlative design and manufacturing of fine quartz products, NSG Precision Cells is a leader of the silica industry with over 50 years of experience. NSG is a member of the Tosoh Quartz Inc. family, which is an international company that has been delivering advanced technology and outstanding products since 1935. If you are looking for a micro flow channel cell, there is no better place to look!
NSG Precision Cells is particularly knowledgeable in constructing, forging, polishing and perfecting quartz and glass manufacturing. Additionally, NSG offers a variety of custom designs for laboratories and research facilities. Designs include precise dimensions and tolerances that are specified as well as guaranteed full customer support even after purchase. With the finest in quality as well as price, NSG offers a variety of cuvettes and flow cells that can be custom designed to fit the needs of a laboratory. Because there is a wide array of cuvettes and flow cells that NSG can specially make, a small list is detailed as follows:

Flow Cytometry Cells
Flow Channel Cuvettes
Quartz Plates and Discs
Micro flow Channel Cells
Flow Cells for Particle Sizers
Cuvettes for Particle Counting
Liquid Chromatography (LC) Cuvettes
Modifications on Standard Stock Cuvettes
High-performance Liquid Chromatography (HPLC) Detector Cells
To request a specific design and assessment, all that is needed is a generalized sketch including dimensions and tolerances. Likewise, to ensure specified flow cells are of maximum quality, NSG makes enhancements if necessary and asks relative questions for quality assurance. Depending on the order, the assessment is usually finished within a couple of days.
The best cuvettes and flow cells are crystal clear with no defects or impurities which can affect readings. Before flow cells are available to customers they are thoroughly inspected by an International Organization for Standardization (ISO) certified inspection team in a class 5 clean room. Inspection procedures for flow cells like the micro flow channel include checking each individual cell for optical, physical and operational defects. After a micro flow channel is acquired NSG follows-up to make sure that the cell is functioning as specified. In addition, if there is ever a problem NSG makes a 100% guarantee that they will carefully investigate the matter until it is resolved.
NSG Precision Cells has effectively addressed the increasing scientific demands in today's silicon industry. With further advancement in Nano technology research, NSG is proud to offer state-of-the-art products like its precision flow cells. The micro flow channel can be utilized in most laboratories and is ideal for various analyses like particle analysis and cytometry. Some of the superb features of the micro flow channel are as follows:
No minimum order quantities
Affordable and effective resolutions
Advanced and fine-tuned flow cells
Fast and stress-free quotation process
Outstanding customer service and support
Customer labeling and engraving available
Unbeatable pricing on large and small quantities
Additionally, NSG's products such as micro flow channels are made in their factory located in Japan. The NSG factory has been providing cutting-edge products since 1935. As well, it has acquired ISO9002 certification which has been given only to a few companies worldwide. The ISO9002 certificate is given to companies who have excellent quality manufacturing and services.
As a universal leader in the silicon industry, NSG Precision Cells offers the perfect solution for the increasing demands for quality and cost-effective products. With innovative technology and specialized custom designs, NSG delivers the finest micro flow channels for all types of scientific laboratories. Decisively, NSG Precision Cells creates the most economical and highest quality micro flow channel on the market.
About NSG Precision Cells
NSG Precision Cells, Inc. was founded in 1958 and has been growing ever since. NSG Precision Cells, Inc. is a well established, highly regarded quartz manufacturer and we specialize in the manufacturing of quartz flowcells, quartz flow channel cuvettes, quartz microchips, quartz cuvettes, and other quartz optical products.