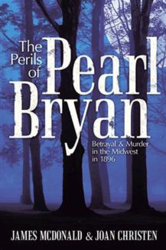 It's a compelling story set within a fascinating period in American history demonstrates human vulnerability to their passions and weaknesses which so often end in ruined lives," says McDonald.
Indianapolis, IN (PRWEB) January 19, 2013
"The Perils of Pearl Bryan" unfolds one of the most heinous murders, gripping investigations and bizarre trials and outcomes in United States history.
Many aren't familiar with the famous murder account that occurred in Kentucky in the 1890s. The Perils of Pearl Bryan, by James McDonald, outlines the complex account of the murder case of Pearl Bryan. The cast of characters are based on actual facts, although the "fleshing out" of specific characters and surrounding circumstances are fictional, though as true to life as possible.
When McDonald discovered an old, tattered 14-page journal that his grandfather had written in 1968, he was amazed by one passage telling of the booming newspaper sales during the time of the Pearl Bryan murder case. Curious and inspired, McDonald did research leading him to tell the full story of the case as far as he could determine.