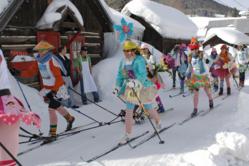 — Colorado's Gunnison-Crested Butte Valley is known for embracing winter with events built from a special formula of costumes, snow sports, music and a big dose of enthusiasm.
Gunnison-Crested Butte, CO (PRWEB) January 17, 2013
Colorado's Gunnison-Crested Butte Valley is known for embracing winter with events built from a special formula of costumes, snow sports, music and a big dose of enthusiasm. From a pub ski for Nordic skiers and a massive ski jump in the heart of downtown Crested Butte to a festival for flushing out of winter and welcoming spring, there is something for all ages to enjoy.
Kenny Mac Ski Fest, Jan. 26
The Gunnison Nordic Club will host its annual Kenny Mac Ski Fest on Jan. 26 at Mill Creek, located northwest of Gunnison on County Roads 730 and 727. Sponsored by Acli-Mate, the event is a chance for Nordic skiers to gather and enjoy a few laps around groomed trails with The Castles as a stunning mountain backdrop. Registration begins at 10 a.m. at the Mill Creek parking area, with adult 15K and 30K races and tours starting at 11 a.m. and children's 1K, 3K and 5K races launching at 11:30 a.m. The cost is $25 for adults and $15 for kids (1K race entry is free). All registered skiers receive a goody bag and admittance to an awards party that includes food and beverage. Costumes are encouraged, with the best character winning a prize. For more information visit http://www.gunnisonnordic.org or call Race Director Gregg Morin at (970) 641-1137.
27th Annual Alley Loop, Feb. 1 - 2
The Alley Loop Nordic ski race on Saturday, Feb. 2 is the highest-altitude Nordic marathon in the United States and most certainly the most exuberant. This American Birkebeiner qualifying race starts and finishes on Elk Avenue and winds its way through alleyways, streets and the trail system located on the outskirts of town. Course lengths of 1.5K, 3K, 5K, 10K, 21K and 42K allow all skill levels and ages to participate. Most of the 450-plus racers have some sort of costume on (think a pack of fairies, a pirate family, alley cats and three skiers hooked together as a caterpillar), and the cheering is mighty. Registration costs and start time vary based on race length. Races begin at 9:15 a.m. with interval start times. Call 970/349-1707 or visit http://www.cbnordic.org.
New this year are Friday activities, including a snow bike/fat bike criterium followed by a pub ski (pub crawl on Nordic skis). For the criterium, cyclists will utilize the Alley Loop start/finish line before heading out onto the Nordic trails. A solo race begins at 3:30 p.m. followed by a relay race (2, 3, or 4 people) at 3:40 p.m. Registration is at the Brick Oven Pizzeria at 2:30 p.m. and costs $15 for individuals $30 for teams (cash only). Bike tires must be a minimum of 3.7 inches wide. For details, visit http://www.elkmountainevents.com.
During the pub ski, participants are grouped into teams, visit local establishments and try unique libations while racking up points by doing quirky challenges or answering trivia questions. Registration for the pub ski is online with race registration or in person on Feb. 1 from 3 to 5 p.m. at the Crested Butte Visitor Center. The cost is $10 in advance ($5 for Alley Loop racers) or $15 the day-of for non-racers. Call 970/349-1707 or visit http://www.cbnordic.org.
Big Air on Elk, March 9
A ski jump in the middle of downtown? It happens in Crested Butte during Big Air on Elk when a snowmobile pulls top skiers and snowboarders who launch off a step-up style jump with a 45-foot gap located at Third Street and Elk Avenue. The invite-only format ensures that each jump will have a good chance of wowing the crowd from 5 – 9 p.m. Colorado Freeskier organizes Big Air on Elk to benefit the Crested Butte Snowsports Foundation. A live web stream will be available on http://www.coloradofreeskier.com and may be showing at local bars and restaurants to watch indoors. For more details, call Colorado Freeskier at (970) 349-6664.
FestEVOL, Mt. Crested Butte, March 9
Crested Butte Mountain Resort, in partnership with IZ Style and Reverb, once again will host the annual FestEVOL (pronounced: Fest-ee-vuhl), which combines mountain sports, live music, innovative natural brands and a sustainably focused "eco village" to help keep the event green. The Reverb Eco Village highlights environmental nonprofit groups alongside alternative energy exhibits and also includes sampling of top natural food brands and ski and snowboard equipment demos.
The Wailers will headline FestEVOL, with news of supporting artists to be released soon. Together with Bob Marley, the Wailers have sold in excess of 250 million albums worldwide. Outside of their groundbreaking work with Marley, the Wailers also have played or performed with international acts like Sting, the Fugees, Stevie Wonder, Carlos Santana and Alpha Blondy and reggae legends such as Peter Tosh, Bunny Wailer and Burning Spear. For ticket information, times and more, go to http://www.skicb.com.
39th Annual Al Johnson Uphill/Downhill Telemark Race, March 24
Held at Crested Butte Mountain Resort at the stroke of noon, this race is as much fun to watch as it is memorable to participate in. In tribute to a rugged 19th century mailman, competitors in wacky costumes climb 600 vertical feet on the Butte's famous double-black diamond terrain, and then hurtle 1,200 feet down double-black diamond steeps, some having never telemarked at all! Prizes are awarded for best times, best costumes and best fall. The race can be tag-team or individual and also enjoyed as a spectator with access to the venue by an intermediate run. Find out more at http://www.skicb.com or by calling (970) 349-2217.
45th Annual Flauschink, April 3 – 7
The last weekend of the ski season could be a ho-hum, hang up your boots kind of farewell in some towns. In Crested Butte, "Colorado's Last Great Ski Town," the expected never happens. Locals and visitors will be flushing out winter and welcoming spring on April 3 - 7. A historical slide show on Wednesday, coronation ball and polka dance on Friday, parade on Saturday morning, and a ski slope salute to the king and queen of Flauschink on Sunday are just part of the wacky fun. The king and queen are presented scepters (a.k.a. handy drink holders) made from toilet plungers and locally crafted crowns. The "Has Beens" (previous Flauschink royalty) join in the fun, and there is a Flauschink exhibit always on display at Crested Butte Mountain Heritage Museum. For information, contact Michelle English, event organizer, at (970) 349-7348. Since 1969.
Awesome Vacation Deals
With the Crested Butte Adventure Package – Save 15% package, experience the excitement of Crested Butte with in-town lodging at the historic Elk Mountain Lodge (save 15%), arrange a winter-based adventure activity with Crested Butte Mountain Guides (save 15%, excluding camps and clinics) and complete the getaway with a recovery massage at Creekside Spa (save $5 on any treatment). This package is available Jan. 7 – Feb. 14 (Mondays – Thursdays only) and April 1 – April 14, 2013. To reserve, contact Elk Mountain Lodge at (800) 374-6521 or visit http://www.elkmountainlodge.com.
Book the Fly, Ski & Stay for $699 package to "Colorado's Last Great Ski Town" by Feb. 1 and save big! Fly American Airlines to Gunnison/Crested Butte Regional Airport, ski three days at Crested Butte Mountain Resort and stay four nights at the Grand Lodge in Mt. Crested Butte all for $699. Call Crested Butte Vacations at (800) 810-7669. Some restrictions may apply.
With Crested Butte Lodging & Property Management's Stay More, Pay Less deal, guests save 30 percent when staying five nights or more, 25 percent for four nights and 20 percent for three nights this winter. The offer is subject to availability and must be booked by Jan. 31, 2013. In addition, for the month of January, all unit types at the Crested Butte International Lodge and Hostel have a last-minute discount of 30 percent with no minimum night stay. Call (888) 412-7310 and visit http://www.crestedbuttelodging.com.
Skiers and riders in Phoenix and the San Francisco Bay area can now take advantage of two-for-one airline tickets to Montrose Regional Airport (MTJ), located near the Gunnison-Crested Butte Valley and the ski slopes of Crested Butte Mountain Resort. This winter, Allegiant is offering fares from Phoenix starting as low as $46.99 one-way ($93.98 round-trip) and from Oakland starting at $49.99 one-way ($99.98 round-trip). Two-for-one tickets must be purchased by Jan. 31 for travel by April 3, 2013. The deal is available exclusively by calling (866) 237-5341 and is based upon availability.
Visitor Information & Vacation Packages
To save on flights, hotel rooms, vacation packages, car rentals and more, call the Gunnison-Crested Butte Tourism Association reservation hotline at (888) 559-0841 or go to http://book.GunnisonCrestedButte.com. For destination information call (800) 814-8893, or visit http://www.GunnisonCrestedButte.com.
About Gunnison-Crested Butte, Colorado
Nestled in a valley with nearly two million acres of pristine, mountainous wilderness, Gunnison-Crested Butte has a prime location in southwest Colorado. Winter sports enthusiasts know the area for its world-class alpine skiing and snowboarding, cross-country skiing, ice fishing and more. Fair-weather activities include mountain biking, hiking, wildflower and wildlife viewing, climbing, boating, whitewater rafting, kayaking, fly-fishing, camping and horseback riding. Year-round visitors enjoy distinctive restaurants, locally-owned shops, stimulating cultural opportunities and festivals galore ranging from the Crested Butte Wildflower Festival and Gunnison Cattlemen's Days to Crested Butte Bike Week and Gunnison Car Show weekend.
Along a 31-mile stretch of wide-open vistas and stunning scenery, visitors can explore Gunnison, Almont, Crested Butte and Mt. Crested Butte and connect with the quaint and historic burgs of Pitkin, Gothic, Tin Cup, Marble, Powderhorn and Crystal, also located in Gunnison County. Gunnison and Crested Butte, both founded in 1880, are known for their Victorian-era charm, friendly Western hospitality and free-spirited nature. Almont is a fishing, rafting and rock climbing mecca, and the resort village of Mt. Crested Butte is home to renowned Crested Butte Mountain Resort. Visitors also can explore Curecanti National Recreation Area, home to Colorado's largest body of water, and the nearby Black Canyon of the Gunnison National Park. Gunnison County is part of the West Elk Loop and Silver Thread Scenic & Historic Byways.
Air service to the Gunnison-Crested Butte Regional Airport (GUC) for the 2012-2013 winter season is provided by American Airlines and United Airlines with direct flights from Dallas (DFW), Houston (IAH) and Denver (DEN). Montrose Regional Airport (MTJ) is another option that offers additional nonstop jet service to the area, with direct flights on Allegiant Air from Phoenix, Ariz. (IWA) and Oakland, Calif. (OAK).