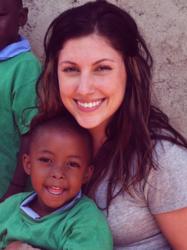 The Maasai people are so kind and genuine and live life for today
Greenwood, Indiana (PRWEB) January 22, 2013
Carter's My Plumber is supporting college student, Lauren Carter, on her mission in Nairobi, Kenya, Africa. She is on a 3-week trip with 24 other Calvin College students and professors. It is a college course focusing on how leaders in East Africa (Kenya, specifically) develop business, provide health care, organize media and government, respond to crises, and conduct worship. Students heard lectures on Kenyan history, politics, and culture from leading African scholars, and then traveled to rural development sites to see leadership in action. Students have seen wild animals in the Masai Mara, Africa's greatest game reserve. Students have walked the streets of Nairobi and the dirt paths of the Kibera slum. Students have worshipped with African Christians under roofs, trees, and sun. They have made friends among the Maasai, Kikuyu, and other tribal groups. Students have had the capacity to meet, befriend, conduct discussions, and assess leadership in the developing world. They have learned the historical, cultural, and religious influences in East Africa. They have had daily de-briefings and team discussions, student journals and discussion with African leaders.
Lauren has sent a few Facebook messages commenting on the limitations of plumbing in this culture. They have literal holes for toilets, and the means for bathing is muddy water. Lauren commented the people in Maasai live for today, because they do not know if they will survive tomorrow. Food is so sparse and they don't have medical or sanitation resources; they have little means for survival. Lauren said it has been "a very humbling experience." She is experiencing the value of life first hand, and the detriments of poverty and lack of resources. Lauren will return to Grand Rapids, Michigan this week, and she will report back to the Carter's her assessments about the plumbing conditions in Kenya. The Carter's will determine if they will be able to make improvements and provide service to this country based on data collected.
Lauren is the daughter of Jamie and Lisa Carter, who own and operate Carter's My Plumber in Greenwood, Indiana. Lauren worked as a marketing intern this past summer for the Carters. Carter's My Plumber has sponsored Lauren in Africa, and they also have a heart for helping third world countries to improve the means of sanitation and plumbing. This past summer the Carter's traveled with Lauren to Haiti to install plumbing in an orphanage. Lauren is a junior at Calvin College in Grand Rapids, Michigan, where she is studying Strategic Communications. She has a heart for mission work, and for bringing hope to people struggling in other parts of the world. See more information about Lauren's journey at http://www.cartersmyplumber.com and click our Facebook link. http://on.fb.me/U6gowY
About Carter's My Plumber
Carter's My Plumber is a family-owned, full service residential and light commercial plumbing company in Greenwood, Indiana. We are listed on Angie's List as a plumbing service contractor. http://bit.ly/XJdm1j They specialize in repair and replacement of water heaters, water softeners, drains, toilets, faucets, garbage disposals, gas lines, water leaks and any other plumbing device that maintains the health of the home. They are focused on the proper maintenance of plumbing in the homes they service, along with having a passion to take their expertise to other countries to improve the lives of many.