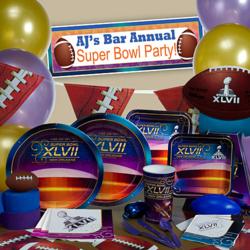 South Whitley, Indiana (PRWEB) January 17, 2013
Which teams do party shoppers believe will have the big wins on Sunday and make their way to Super Bowl XLVII in New Orleans? According to a poll performed on Shindigz.com, the February match-up to watch for will be the New England Patriots and the San Francisco 49ers.
Those participating in the NFL division championship poll picked the Patriots (53%) over the Baltimore Ravens (47%) and the 49ers (81%) over the Atlanta Falcons (19%).
Shindigz has also been keeping a close eye to NFL team purchases since the final four football teams were determined. While the 49ers are ahead in the polls, Falcons fans have been purchasing more plates and napkins for parties than any other NFL team. For purchase behavior, the Falcons are followed by the Patriots, Ravens, and then 49ers.
The Shindigz NFL Championship poll is open for voting through Sunday and can be found at http://www.shindigz.com/football.
About Shindigz
Since 1926, Shindigz has "made life more fun" for 23 million events through the manufacture and sale of personalized party supplies. It ships products from its facilities in South Whitley, Indiana across the United States, and around the world to 59 countries. With more than 34,000 products, the company provides customers with a complete party solution. For more information about Shindigz, go to http://www.shindigz.com.