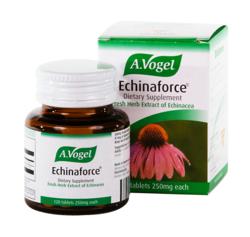 No other Echinacea product has more published research available on the NCCAM website than Echinaforce®
Ghent, NY (PRWEB) January 22, 2013
Bioforce USA was pleased that NCCAM(National Center for Complementary and Alternative Medicine) stated in their January 2013 Clinical Digest that in 2012, over 3 million visitors came to NCCAM's website seeking information on complementary health approaches. Echinacea was in the top 5 most searched for herbs. Since Echinacea has been in use as a healing remedy for hundreds of years, some have felt that the newer botanicals for immune support are more interesting and more relevant today. According to Pierce Sioussat, President and CEO of Bioforce USA "we find this very interesting because with all the newer immune herbs some may look at Echinacea as old fashioned, not as relevant today. Yet here we are with cutting edge research and irrefutable evidence from NCCAM that Echinacea is still top of mind and number one for consumers when it comes to immune support. Undoubtedly, all the recent research Bioforce AG is doing on its Echinaforce®, identifying at least 6 specific ways that it supports the body's immune response, and the research available on the NCCAM website showing the preventative characteristic of Echinaforce® is fueling this ongoing interest. In fact, no other Echinacea product has more published research available on the NCCAM website than Echinaforce®."
On September 27, 2012 five top immune experts gathered in London to discuss the latest research on the Swiss Echinacea extract Echinaforce®. Their comments on the efficacy of Echinaforce® are available on You Tube. The report on this conference is also available by calling 800-641-7555 x. 100.
Bioforce AG, Roggwil, Switzerland is known for its "gold standard" research on herbs. Bioforce received the American Botanical Council's Varro E. Tyler Commercial Investment in Phytomedicinal Research Award in 2011. It's meta-analysis on Echinacea was chosen as one of the top 25 research papers of 2006 by the prestigious Annual Bibliography of Significant Advances in Dietary Supplement Research, published by The National Institutes of Health, (NIH) Office of Dietary Supplements.
About Bioforce
Bioforce USA has created long-term strategic alliances with European manufacturers of product lines that have years of clinical research support for safety and efficacy, plus years of repeat consumer use. Bioforce USA has brought these lines, which include A. Vogel, Sanhelios, Herbatint, Bionorica, Annemarie Börlind and SECURE Denture Adhesives exclusively to the United States for distribution through natural products and health food stores.
For more information call Eileen Sheets at 800-641-7555 x100 or esheets(at)bioforceusa(dot)com