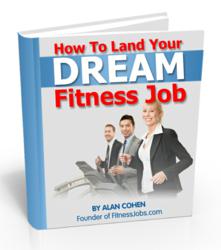 Job Seekers who are Prepared are More Successful; Research Pays Huge Dividends
Prescott, AZ (PRWEB) January 30, 2013
Landing a dream job in any market is tough. With unemployment averaging over 8% nationwide, it can be a daunting task to find a job that provides career gratification and appropriate compensation.
Alan Cohen, founder and president of FitnessJobs.com, a niche job board for the health, fitness and recreation industry thought it was time to put his 35 years of fitness industry experience to work to help job seekers create a more comprehensive job hunting strategy than what had worked in years past.
Cohen's new eBook, "How to Land Your Dream Fitness Job - a Complete Guide to Finding Your Dream Job in the Health and Fitness Industry," will get job seekers attention and motivated to find their dream fitness job.
The book includes topics such as: Understanding the 13 vertical markets to find a successful fitness career, self-analysis and job dynamics that determines your job satisfaction & success, How to map out and climb the fitness career ladder, The job seekers tool box: Resumes, covers letters, references and thank you notes, The fine art of negotiating compensation plans, Research paying big dividends, Buyer's remorse – How NOT to make the wrong fitness career decision, How to interview like a pro and land that job, Accelerated marketing strategies that will garner more interviews and much more!
Also included is The Interviewing Tool Kit: 12 fitness industry specific job descriptions PLUS corresponding interview questions to help job seekers fully understand industry expectations so job seekers are better prepared for their interview!
"How to Land Your Dream Fitness Job - a Complete Guide to Finding Your Dream Job in the Health and Fitness Industry" can be purchased by going to http://www.landyourdreamfitnessjob.com.
About The Career Collection™:
FitnessJobs.com was started by Alan Cohen in 1998 as the first site available to job seekers and employers specializing in the health, fitness, recreation and leisure industries. Over the years it grew to be a related 'collection' of websites that now encompass six integrated job boards: AquaticsCareers.com, FitnessJobs.com, NutriJobs.com, ParkandRecreationJobs.com, SpaandSalonJobs.com and YogaJobs.com. Its model as a recruiting resource for employers and job seekers is designed to be comprehensive, easy to use, cost-efficient and fast. Personalized advice is available to all job seekers and employers to ensure their success.
Contact:
Alan Cohen, President
The Career Collection 800-259-4397 http://www.CareerCollection.com
###