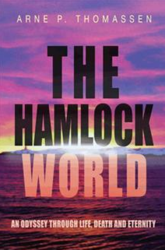 I felt the need to share my experiences and thoughts about the dangers of brainwashing and extensive supervision.
New York, NY (PRWEB) January 30, 2013
"The Hamlock World", by Arne Thomassen, a fantasy world that demonstrates how brainwashing and supervision systems can have major implications.
Should we be concerned about the growing number of supervision systems being established? Will there be groups like the Nazi Party in our future?
The story is about Roger Hamlock and how he falls unprepared into a strange world where everything is possible, but not everything is good. Realizing the need for countermeasures, Roger faces his ultimate choice in seeking a spiritual refining concerning not only himself but many others as well.
Readers will find "The Hamlock World" entertaining and thought provoking. They will begin to question just how much supervision the world really needs.