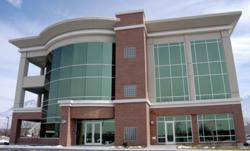 With the addition of another UPS to our data center, we continue our pledge to absolute redundancy.
Orem, UT (PRWEB) January 21, 2013
Fibernet Corp., a leading provider of Colocation and Dedicated Server products, as well as professional office space leasing since 1994, has announced the addition of another UPS, or uninterrupted power supply, to its data center.
The UPS serves as a backup power supply during unforeseen power outages, ensuring the continued performance of company and client servers. In the event of a power outage, the UPS operates as an interim supply of electricity while backup generators initiate to power the data center until primary power is restored.
The other main function of UPSs is to provide a cleaner power source for the data center than normal utility power can provide. This will allow the servers to run more consistently and with less fluctuation than they would on city power.
Lane Livingston, Fibernet's CEO, commented, "With the addition of another UPS to our data center, we continue our pledge to absolute redundancy. One of our main points of focus has always been to provide the most reliable, consistent service to our Colocation and hosting customers. Another UPS adds an extra layer of insurance to protect our customers against any fluctuations in power."
This new machinery is Fibernet's largest UPS in terms of power and sheer size. With its accompanying parts, the control panel and flywheel, the machine weighs in at over 9,000 pounds. Fibernet now boasts four UPS units in its data center.
About Fibernet Corp.
Fibernet's products range from customizable Colocation solutions to an expanding variety of Dedicated, Managed, Virtual, and Cloud hosting packages and options. Each service is delivered with the Fibernet promise of reliability and value and backed up 24/7 by Dedicated Experts™, an elite team of geniuses committed to keeping Fibernet's customers online and ready for business.
Learn more about Fibernet Corp.'s PCI and SAS70 certified facilities by visiting http://www.fiber.net, where you can chat live with a Dedicated Expert™.
# # #