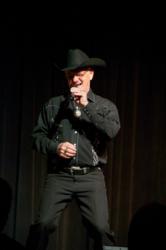 Ocala, FL (PRWEB) January 18, 2013
Active adults 55+ from all over Florida are invited on stage to audition for the 4th annual "The World Has Talent" 55+ talent show on Tuesday, February 26, 2013 from 10am to 3pm at Ocala's Circle Square Cultural Center.
Judges will choose the top acts from the audition who will then perform at "The World Has Talent" 55+ Talent Show at the Cultural Center on Saturday, May 11, 2013 where they will compete for a chance to win the $500 first place, $250 second place and $150 third place prizes!
Individuals and groups 55+ are invited to audition. No previous performance experience is required! The Circle Square Cultural Center is located at 8395 SW 80th St, Ocala, Florida. For more information visit: http://www.CSCulturalCenter.com, call 352-854-3670 or e-mail [email protected].