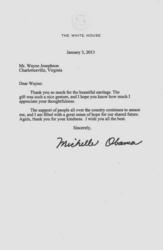 "I appreciate First Lady Michelle Obama's gracious letter of thanks for her quilted sterling earrings," says designer Wayne Josephson.
Charlottesville, VA (PRWEB) January 22, 2013
First Lady Michelle Obama has written a personal letter of thanks to jewelry designer Wayne Josephson for her gift of quilted sterling earrings. The design of these classic, elegant, and sophisticated earrings were inspired by Wayne Josephson's 16th century noble European ancestors. Every piece is meticulously crafted to the highest standards from the finest quality heavyweight 925 sterling silver, to treasure for a lifetime.
Read First Lady Michelle Obama's Letter of Thanks to Wayne Josephson.
Wayne Josephson's trademark-designed sterling silver jewelry is brand new, shipped direct from the designer's showroom. His earrings and pendants, available in high polish and matte finishes, are the first two of a forthcoming line of sixteen different bracelets, rings, earrings and necklaces. They are beautifully packaged in a signature black velvet box, and include anti-tarnish polishing cloths and signature black velveteen drawstring travel bags.
All jewelry by Wayne Josephson features free worldwide shipping.
To view current available jewelry and sketches of forthcoming designs, and for additional contact information, please visit his website at Wayne Josephson.
Wayne Josephson is a direct descendant of Count Torsten Stalhandske, ennobled into the Swedish House of Nobility in 1574 by King Gustav. His unique jewelry designs are inspired by four centuries of European nobility.