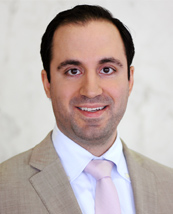 Mehryar (Ray) Taban, MD, FACS, is a Santa Barbara and Beverly Hills oculoplastic surgeon who is committed to his patient's progress and results.
Beverly Hills, CA (PRWEB) January 18, 2013
Triple board certified oculoplastic surgeon, Dr. Mehryar (Ray) Taban, will present at the ACS Conference at the Biltmore Hotel in Santa Barbara, CA on January 19-20, 2013. This annual meeting focuses on innovative research and surgical techniques, shared by some of the most renowned surgeons in the country. Dr. Taban has made it his mission to not only give his patients the best and most natural looking results, but to contribute to the medical field by sharing his techniques and educating others.
Dr. Taban's first presentation will discuss "Functional uses of periocular fillers." Periocular fillers are injectable materials used to restore facial volume to the region around the eyes, which can be lost with age. In addition to helping patients achieve a more youthful looking appearance, fillers can have functional surgical uses. Dr. Taban's lecture will review the beneficial cosmetic and reconstructive uses of periocular fillers.
Dr. Taban will also give a lecture titled "Revisional blepharoptosis surgery using full-thickness eyelid resection." Blepharoptosis refers to a drooping or abnormal relaxation of the upper eyelid. It is most commonly caused by aging or trauma to the eyelid, producing a constant sleepy or tired look. Blepharoptosis can be an unpredictable procedure, with a revision rate of up to 25%. As an expert revisional blepharoptosis surgeon, Dr. Taban, will teach his peers about predictable and effective surgical techniques.
The full-thickness eyelid resection technique, to be presented by Dr. Taban, utilizes a preexisting scar from a past blepharoptosis surgery to achieve optimal aesthetic correction of a droopy eyelid. The procedure involves excising scar tissue from a previous surgery to lift the affected eyelid and restore the eyelid to its natural appearance. According to Dr. Taban, "full-thickness eyelid resection is a powerful technique to correct blepharoptosis in patients with full-thickness eyelid scarring, with much more predictable results than traditional revisional surgery."
Mehryar (Ray) Taban, MD, FACS, is a Santa Barbara and Beverly Hills oculoplastic surgeon who is committed to his patient's progress and results. He offers an array of reconstructive and cosmetic procedures, with a focus on the face in general and the eyes in particular. He has had extensive training, and is triple board-certified by the American Society of Oculofacial plastic surgery. Due to Dr. Mehryar (Ray) Taban's expertise, he is often called upon to help other physicians with their complex cases, and frequently publishes articles and lectures to physicians around the country.
For more information on Dr. Taban and his services, please visit http://www.TabanMD.com.