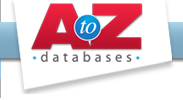 With our increased limit they can get their list in one search, as opposed to 20 searches from our competitors.

Rakesh Gupta, President
Omaha, NE (PRWEB) January 17, 2013
AtoZdatabases, the leading provider of reference & marketing databases and job searches for public libraries, academic institutions, and government agencies, is excited to announce that it has increased its download limit for users from 250 to 1,000 leads per search.
This new increased limit applies to searches performed both internally and remotely, and is one of many improvements that AtoZdatabases has implemented recently. In the latter half of 2012, AtoZ launched its 'Find a Job' search with over 2.4 million job listings, 'Find a Doctor' search of 1.1 million healthcare professionals, 100 million cell phone numbers, and a mobile application for iPad and iPhone.
AtoZdatabases is ideal for:

Small Businesses: Find sales leads and mailing lists to grow their sales
People Searching: Locate friends and relatives
Entrepreneurs: Find similar businesses along with competitors
Students: Research businesses by industry or segment and company size
Government Agencies: Research employment statistics, mapping, and traffic modeling
Fundraising: Find income and home values in any neighborhood
Guidance Counselors: Help students learn about various careers and find a job
"Most small businesses and salespeople need as many leads as they can get in order to get the most out of their marketing. With our increased limit they can get their list in one search, as opposed to 20 searches from our competitors," says Rakesh Gupta, President of AtoZdatabases.
For a free 30-Day trial of AtoZdatabases, please call toll-free at 877-428-0101 or email Sales(at)AtoZdatabases(dot)com.
About AtoZdatabases:
AtoZdatabases, powered by DatabaseUSA.com, is a leading provider of job searches, reference, and marketing databases for public libraries, academic institutions, and government agencies across the United States.