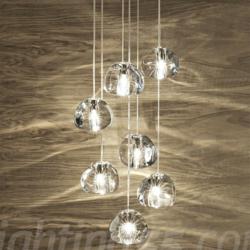 Tarpon Springs, FL (PRWEB) January 21, 2013
Innovative lighting provider Lighting55.com announces the addition of Terzani's Mizu Pendant Light to its assortment. Inspired by mesmerizing light refractions created by water, Mizu features a cascade of crystal "droplets," which evoke the fluidity and movement of falling water. The Mizu Pendant Light by Terzani is meticulously made by hand, ensuring no two pendants will be exactly the same. Crafted using only the clearest, highest-quality crystal (24% lead), each individual droplet or sphere was expertly designed to cast compelling patterns on adjacent walls and surfaces.
Mizu is available in an assortment of standard configurations (1, 3, 5, 7, 15 or 26 droplets/lights), but also has custom capabilities and can be ordered in any configuration desired. Adding to the flexibility of this handmade Italian design, Mizu comes with a choice of a square, round, oval or rectangular canopies, letting the customer pick the right shape for their space and their chosen Mizu configuration. The canopy is made from brushed nickel, securely holding the crystal droplets, which are suspended from nickel cables. The metal and glass design will fit seamlessly in a wide variety of interior design styles – and Mizu's infinite customization options mean customers will easily find a configuration to fit their space. Mizu is ETL listed.
The Mizu collection was designed by Nicolas Terzani, self-taught designer and the CEO of Terzani S.R.L. Raised in the Terzani family's creative culture, his style is emblematic of the Terzani brand, which is known for combining artisan techniques and luxurious materials with experimental, cutting-edge manufacturing processes. The results of this creative and labor-intensive process are unique, expressive designs like Mizu. Often designing with the global market in mind, Nicolas creates products or objects that either improve upon an existing design or are missing altogether from the industry. Buttressing his conceptual skills are the knowledge and experience of Terzani's master craftsmen, who are known for their work with precious metals and glass.
As part of his role as Terzani CEO, Nicolas also curates a selection of innovative modern lighting from some of the world's leading designers including Dodo Arslan, Maurizio Galante, Nigel Coates and Christian Lava. A graduate of the European Business School in Paris, Nicolas currently lives in Florence.
About Lighting55.com
For over 15 years, Lighting55.com has been providing traditional and contemporary Italian and modern lighting solutions. Their clients include individual homeowners, interior designers, contractors and corporations. Some of their current clients include Twentieth Century Fox, Macy's, Deutsche Bank and the Cosmopolitan Las Vegas. Lighting55.com is a division of Euro
Lights & Electric Group Inc. headquartered in Tarpon Springs, FL, with warehouses in the United States and Germany.