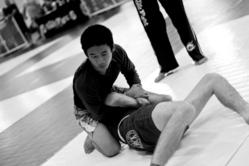 "My motto is 'I'm the best blue belt in the world and I just have to prove it.'"

- Devon Delbrugge
(PRWEB) January 21, 2013
On January 12, the Good Fight returned to the Du Burns Arena in Baltimore, Maryland. Teams from across the East Coast flooded the tournament in hopes of taking the title. With many competitors rising to the top of the podium multiple times, in the end Crazy 88 and Team Lloyd Irvin took home the team title.
The Good Fight is a regional Brazilian Jiu-Jitsu tournament which focuses predominantly on the East Coast. The tournament offers both Gi and No-Gi divisions for kids, teens, women and adults of all ages. Divisions are based on age, weight and belt/skill level.
Most tournaments offer a "one and done" structure in which a competitor is eliminated after their first loss. However, the Good Fight allows a consolation match for those competing that lose their first match. Offering this setup allows each competitor to grapple at least twice in each division and for first time competitors to gain the necessary experience.
Many of the students from Crazy 88 and other Team Lloyd Irvin schools who participated in the Good Fight were first time competitors. These competitors ranged from the kids division, being as young as 8 years old, to executive division, which includes adults older than 30.
Head Instructor Julius Park stated, "The tournament was a great way to kick off the new year. We had a lot of first time competitors come out, along with some of our Medal Chasers. It is a good warm up for the European Open which is just a few weeks out at this point. I was able to see where our guys are in their progression along with the students from the basic program who I don't normally get to see roll."
Medal Chasers, Timmy Springs and Devon Delbrugge, dominated their divisions by winning their division as well as the open. The two competitors are preparing for the 2013 season which starts with its kick off in just a few weeks at the European Open. Devon stated, "My mindset is on a whole new level for this upcoming season. My motto is 'I'm the best blue belt in the world and I just have to prove it.' With that said, this tournament was a great warm up for what is to come this year. I got some good matches and it was nice to see my teammates go out and have a good time."
At the end of the day Crazy 88 and Team Lloyd Irvin took the team title by a landslide, beating out the second place team by almost double the points. With the turnout of the tournament, the upcoming year looks to be very promising for Crazy 88 and Team Lloyd Irvin. For more information and updates on the Crazy 88 Brazilian Jiu-Jitsu feel free to visit the website at http://www.baltimoremixedmartialarts.com.