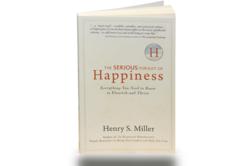 "a 'must read'...bright gem of a book" which is "packed with timeless advice."
Los Gatos, CA (PRWEB) January 24, 2013
Most people, when asked if they would like to be happier and increase their levels of well-being, respond by saying: "Sure. Just tell me what to do." And that is exactly what this book does.
Author Henry S. Miller's new, deliberately prescriptive and highly practical book The Serious Pursuit of Happiness: Everything You Need to Know to Flourish and Thrive [http://www.theseriouspursuitofhappiness.com (Wisdom House Media) presents everything that scientific research has proven everyone should know and then actually do to live their lives with more joy, higher income, maximized strengths, skills and abilities, higher moral character, greater relationship success, better coping with stress, substantially improved performance & productivity, and even better health.
Touted by award-winning leadership guru Jim Kouzes as a "must read…bright gem of a book" and lauded by best-selling author Patrick Lencioni as "packed with timeless advice," readers can learn everything they need to know to live as "happily ever after" as possible by spending just a few hours reading this one small, companion-sized book.
Miller's book synthesizes the essence of over 40 years of happiness research down into just six imperatives containing over 100 proven strategies and 400 specific actions needed to positively affect the estimated 50% of happiness potential that people can readily control. For those who are serious about optimizing their happiness potential, this book offers a clear roadmap to a happier future filled with meaning and purpose - and provides a respite from the epidemics of stress and mild depression swamping so many today.
An internationally-known transformation consultant, Miller is dedicated to concisely prescribing proven, positive, happiness-increasing actions in a clear, simple, easy-to-understand and implement format. His work enables individuals to substantially increase the overall well-being and joy in their personal lives and, as a result, to improve their performance and productivity in all companies and organizations where they contribute.
As a special bonus, for a sample glimpse of the simplicity and potential positive impact of six of the over 400 proven happiness-increasing actions in the book - and for an opportunity to personally "Have a Good Day" from now on - please take eight minutes to watch the video.
For more information about the book and to receive a series of free bonus training videos when ordering a copy, please visit Henry at: http://www.theseriouspursuitof happiness.com. To schedule an interview with author Henry S. Miller, please contact Wisdom House Media.