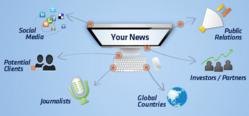 (PRWEB) January 22, 2013
Brand identity is the focal point of all marketing strategies. It establishes target audience, communicates brand message, and shapes advertising plans. A business speaks through its brand identity and they soon join together in an inseparable blend.
Within this context, brand communication becomes essential along with the tools employed to achieve objectives. Effective brand communication is about synchronizing the message with the right target audience. In the end, the way a business will be recognized depends on the effectiveness of the brand communication strategy.
Building Brand Communications
Brand communications strategies are designed to cater the specific needs of the target audience. Louisiana State Business Network is an authority expert in advertising and brand building. Their members benefit from exclusive tools designed to establish and build their brand identify and add to their brand equity.
Louisiana State Business Network supports members in their endeavors to communicate their message effectively and adequately:
Press Release - A press release that is syndicated through major media channels to reach the target audience is a powerful tool that can assist members in their efforts to build their brand identity while showcasing their professional achievements and their business. The power of a press release written by expert writers is a significant add-on to a members' brand equity and MO-SBN's endorsement will strengthen their credibility and establish their position in the industry.
Multi-Media Promotions Program - Louisiana State Business Network has conceived a promotions program that will generate increased and targeted traffic to members' websites, strengthened by authority sites endorsements. Members' websites and press releases will be ranked on the top of search results with major search engines.
Local Chapters Meetings - Designed to support members in identifying the right network for their specific needs, Local Chapters Meetings are the place where members of Louisiana State Business Network present and share their ideas, expertise, recommendations, and insights.
About Louisiana State Business Network:
Louisiana State Business Network (LA-SBN) is a career and business development program established to promote job growth, commerce and networking. It is equipped with the tools, expertise and connectivity to help businesses expand their influence while forging strategic alliances necessary to attain higher levels of achievement. With its integrated infrastructure, LA-SBN holds a powerful online platform for building fundamental connections on a local, state and national scale.