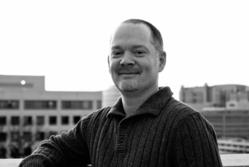 Reston, VA (PRWEB) January 22, 2013
AIS Network, a leading provider of fully managed enterprise-class hosting, today announced it has hired Joshua Darrin to the position of Director of Operations.
Darrin has over 20 years of experience as a technology entrepreneur whose ventures included The Strand Cybercafe (a full service restaurant on Baltimore's Inner Harbor), Treman Falls Productions (a television production company dedicated to positive impact reality programming), and various technology/web development companies. In his previous role as a consultant to AISN, Darrin has been instrumental in helping the company on many operational projects tied to the company's accelerating growth and new role as the premier provider of eGov hosting services to the Commonwealth of Virginia.
"It quickly became clear to us that Josh was such a productive and integrated part of our team that we decided to hire him permanently. We are delighted he will be part of our growth plan," said CEO Jay Atkinson. "Josh has a balanced mixture of business acumen and technical expertise that has really been valuable to our operations."
Darrin will report directly to CTO Kurt Bauman and will be working on many projects, including the expansion of network operations in Virginia and Illinois.
-----
About AIS Network
AIS Network takes businesses to the cloud. Now celebrating its 20th anniversary, hosting pioneer AISN is a leading provider of fully managed hosting for mission-critical applications, data and online businesses with demanding security, compliance and responsiveness requirements. Whether you're using our private cloud, public cloud, hybrid cloud, or good old-fashioned dedicated hosting, we take the worry out of your IT. Our world-class, disaster-resistant facilities and commitment to quality service ensure that our customers aren't just satisfied – they love us. Unlike many cloud hosting companies, AISN, a SSAE 16 Type II-compliant organization, personalizes client service at every level, inspiring full confidence that mission-critical data, applications and email are in reliable hands. Visit http://www.aisn.net.